Leading Thoughts for October 15, 2020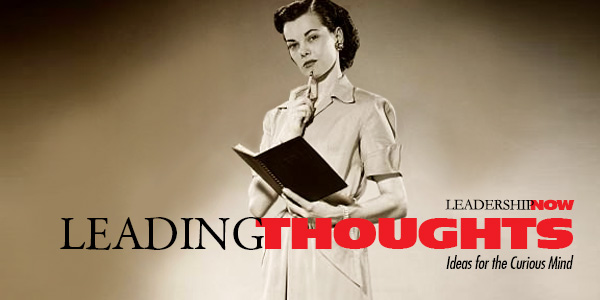 IDEAS shared have the power to expand perspectives, change thinking, and move lives. Here are two ideas for the curious mind to engage with:
I.
Fritjof Capra on making change in a living organization:
"A machine can be controlled; a living system, according to the systemic understanding of life, can only be disturbed. In other words, organizations cannot be controlled through direct interventions, but they can be influenced by giving impulses rather than instructions. To change the conventional style of management requires a shift of perception that is anything but easy, but it also brings great rewards. Working with the processes inherent in living systems means that we do not need to spend a lot of energy to move an organization. There is no need to push, pull, or bully it to make it change. Force or energy are not the issue; the issue is meaning. Meaningful disturbances will get the organization's attention and will trigger structural changes."
Source: The Hidden Connections: A Science for Sustainable Living
II.
Christina Sommers and Sally Satel on the perils of overthinking:
"[There is] the common assumption that intense reflection on troubling thoughts and emotions is rewarded by a clearer vision. What [Stanford University psychologist, Susan] Nolen-Hoeksmea and others have repeatedly shown, however, is that overthinking tends to "impose a lens that shows a distorted, narrow view of the world." Things that are wrong, not the solutions, are what come most sharply into view. "When you are sad," Nolen-Hoeksmea explains, "your brain has greater access to sad thoughts and memories, and you are more likely to interpret events in a sad way." Neural connections between memories with similar emotional color are activated even when we think about depressing incidents that have no apparent relationship to those memories.

As a result, pessimism snowballs, motivation flags, concentration suffers, and it becomes harder to make a decision. Negativity drives other people away, confirming our worst fears about being unlikable or uninteresting. Problems seem overwhelming. These distortions often lead to bad decision making or verbal outbursts we later regret."
Source: One Nation Under Therapy: How the Helping Culture Is Eroding Self-Reliance
* * *
Look for these ideas every Thursday on the Leading Blog. Find more ideas on the LeadingThoughts index.
* * *


Like us on
Instagram
and
Facebook
for additional leadership and personal development ideas.

Posted by Michael McKinney at 05:00 PM
Permalink | Comments (0) | This post is about Leading Thoughts