Leading Thoughts for October 1, 2020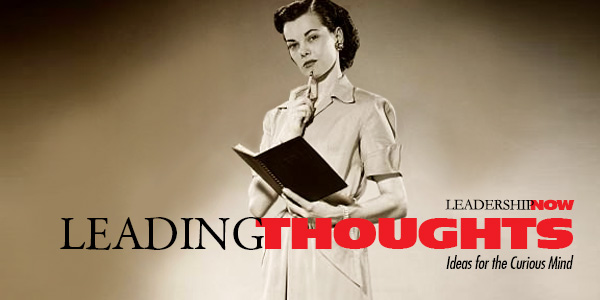 IDEAS shared have the power to expand perspectives, change thinking, and move lives. Here are two ideas for the curious mind to engage with:
I.
Tasha Eurich on the two aspects of self-awarenesss:
"Put simply, self-awareness is not one truth. It's a complex interweaving of our views and others' views of us. Indeed, according to studies on this topic, these two different perspectives, rather than capturing redundant information, may simply capture different aspects of who we are. If we have only internal or only external self-awareness, we're missing a huge piece of the puzzle."
Source: Insight: The Surprising Truth About How Others See Us, How We See Ourselves, and Why the Answers Matter More Than We Think
II.
Robert Quinn on real leadership:
"Leadership is not about results. It is about commitment. The entire management literature fails to understand this. Leadership authors do not understand that leadership means "Go forth and die." If hey did understand it, they would not be enticed to write about it—because people do not want to hear this message. Most people want to be told how to get extraordinary results with minimum risk."
Source: Change the World: How Ordinary People Can Achieve Extraordinary Results
* * *
Look for these ideas every Thursday on the Leading Blog. Find more ideas on the LeadingThoughts index.
* * *


Like us on
Instagram
and
Facebook
for additional leadership and personal development ideas.

Posted by Michael McKinney at 12:10 AM
Permalink | Comments (0) | This post is about Leading Thoughts