Leading Thoughts for September 10, 2020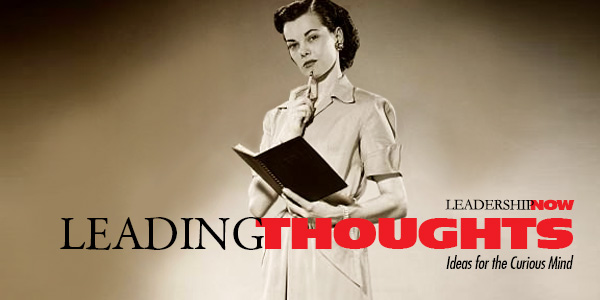 IDEAS shared have the power to expand perspectives, change thinking, and move lives. Here are two ideas for the curious mind to engage with:
I.
King of Bhutan, Jigme Khesar, on the importance of self-leadership:
"Do not feel alone, small or inconsequential. Too often leadership is associated with one great person giving an inspiring sermon to the masses and leading them to greater heights.

Even if all of us cannot own billions or rule the world—what we can do for certain is we can touch the life of one person at a time—that is what is humanly possible and that is the great equalizer—whether you are the richest woman in the world or an ordinary man making a living you have the same power to truly touch someone with kindness, compassion, and care.

What I am saying is that in this global village, on a daily basis we are not fighting world wars or military conquest. Every single day we are fighting the consequences of simple human negligence, complacency, lack of compassion, inequality. What we need is not a Leader to lead the Masses—we need Leadership of the Self."
Source: Convocation Address at Calcutta University, October 5, 2010
II.
Prime Minister of Albania and former basketball player, Edi Rama on teamwork:
"The other team had a superior culture, less focused on individual talent, more on team strength. Culture comes from values and from leadership. To the eternal champions the victory was everything and they were ready to accept any part they had to for the sake of winning; victory was naturally very important to us also, but less important than the performance of each individual. And that meant we were not a team. So we lost. The other team won. Because they were a team. Simple."
Source: Winners: And How They Succeed
* * *
Look for these ideas every Thursday on the Leading Blog. Find more ideas on the LeadingThoughts index.
* * *


Like us on
Instagram
and
Facebook
for additional leadership and personal development ideas.

Posted by Michael McKinney at 12:07 AM
Permalink | Comments (0) | This post is about Leading Thoughts