Leading Thoughts for June 18, 2020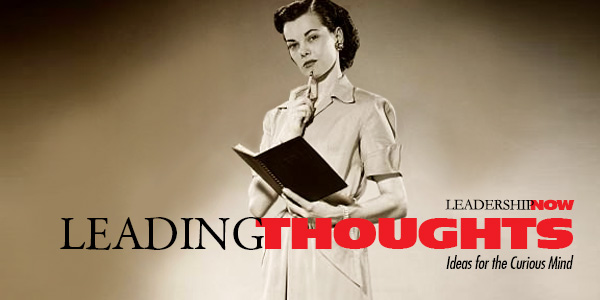 IDEAS shared have the power to expand perspectives, change thinking, and move lives. Here are two ideas for the curious mind to engage with:
I.
Richard Feynman on living with uncertainty:
"I can live with doubt and uncertainty and not knowing. I think it's much more interesting to live not knowing than to have answers which might be wrong."
Source: The Pleasure of Finding Things Out: The Best Short Works of Richard Feynman
II.
On the challenge shifting from solo to shared credit:
"Getting beyond blame requires a shift in thinking and culture. Getting beyond ego requires a shift in behavior and attitude. Leadership, with all its attention and perks, does attract people with aggrandized self-esteem. They mistake the collected efforts of many people for their own and expect solo credit. They are jealous of attention given to others. They are "me"—centric. Everyone has an ego—after all, it serves certain purposes—thought when overgrown, the inflated ego defies surgical extraction."
Source: You're It: You're It: Crisis, Change, and How to Lead When It Matters Most
* * *
Look for these ideas every Thursday on the Leading Blog. Find more ideas on the LeadingThoughts index.
* * *


Like us on
Instagram
and
Facebook
for additional leadership and personal development ideas.
Posted by Michael McKinney at 11:39 AM
Permalink | Comments (0) | This post is about Leading Thoughts