Leading Thoughts for June 11, 2020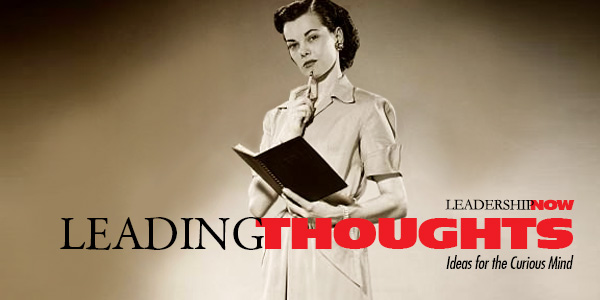 IDEAS shared have the power to expand perspectives, change thinking, and move lives. Here are two ideas for the curious mind to engage with:
I.
Rocket scientist and law professor Ozan Varol on the need for critical thinking:
"Companies fail because they stare at the rearview mirror and keep calling the same plays from the same playbook. Instead of risking failure, they stick with the status quo. In our daily lives, we fail to exercise our critical-thinking muscles and instead leave it to others to draw conclusions. As a result, these muscles atrophy over time. Without an informed public willing to question confident claims, democracy decays and misinformation spreads. Once alternative facts are reported and retweeted, they become the truth. Pseudoscience becomes indistinguishable from real science."
Source: Think Like a Rocket Scientist
II.
Albert Gray, a life insurance executive at Prudential, on the importance of habits:
"Every single qualification for success is acquired through habit. People form habits and habits form futures. If you do not deliberately form good habits, then unconsciously you will form bad ones. You are the kind of person you are because you have formed the habit of being that kind of person, and the only way you can change is through habit."
Source: The Common Denominator of Success
* * *
Look for these ideas every Thursday on the Leading Blog. Find more ideas on the LeadingThoughts index.
* * *


Like us on
Instagram
and
Facebook
for additional leadership and personal development ideas.
Posted by Michael McKinney at 09:24 AM
Permalink | Comments (0) | This post is about Leading Thoughts