First Look: Leadership Books for June 2020
Here's a look at some of the best leadership books to be released in June 2020. Don't miss out on other great new and future releases.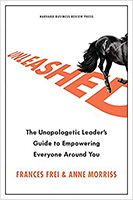 Unleashed: The Unapologetic Leader's Guide to Empowering Everyone Around You by Frances Frei and Anne Morriss
Leadership isn't easy. It takes grit, courage, and vision, among other things, that can be hard to come by on your toughest days. When leaders and aspiring leaders seek out advice, they're often told to try harder. Dig deeper. Look in the mirror and own your natural-born strengths and fix any real or perceived career-limiting deficiencies. Frances Frei and Anne Morriss offer a different worldview. They argue that this popular leadership advice glosses over the most important thing you do as a leader: build others up. Leadership isn't about you. It's about how effective you are at empowering other people—and making sure this impact endures even in your absence. As Frei and Morriss show through inspiring stories from ancient Rome to present-day Silicon Valley, the origins of great leadership are found, paradoxically, not in worrying about your own status and advancement, but in the unrelenting focus on other people's potential.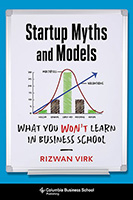 Startup Myths and Models: What You Won't Learn in Business School by Rizwan Virk
Budding entrepreneurs face a challenging road. The path is not made any easier by all the clichés they hear about how to make a startup succeed―from platitudes and conventional wisdom to downright contradictions. This witty and wise guide to the dilemmas of entrepreneurship debunks widespread misconceptions about how the world of startups works and offers hard-earned advice for every step of the journey. Instead of startup myths―legends spun from a fantasy version of Silicon Valley―Rizwan Virk provides startup models―frameworks that help make thoughtful decisions about starting, growing, managing, and selling a business. Rather than dispensing simplistic rules, he mentors readers in the development of a mental toolkit for approaching challenges based on how startup markets evolve in real life.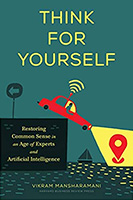 Think for Yourself: Restoring Common Sense in an Age of Experts and Artificial Intelligence by Vikram Mansharamani
Have you ever followed your GPS device to a deserted parking lot? Or unquestioningly followed the advice of an expert—perhaps a doctor or financial adviser—only to learn later that your own thoughts and doubts were correct? And what about the stories we've all heard over the years about sick patients—whether infected with Ebola or COVID-19—who were sent home or allowed to travel because busy staff people were following a protocol to the letter rather than using common sense? Why and how do these kinds of things happen? As Harvard lecturer and global trend watcher Vikram Mansharamani shows in this eye-opening and perspective-shifting book, our complex, data-flooded world has made us ever more reliant on experts, protocols, and technology. Too often, we've stopped thinking for ourselves. Mansharamani illustrates how in a very real sense we have outsourced our thinking to a troubling degree, relinquishing our autonomy.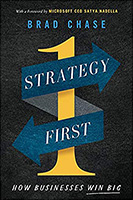 Strategy First: How Businesses Win Big by Brad Chase
In Strategy First, Brad Chase, the mind behind some of Microsoft's largest and most successful initiatives, explains why building robust strategies is the imperative to business success. Chase leads readers through his easy-to-use strategy model, Strategy = E x mc2, which teaches readers the art of strategy—how to build and execute winning strategies relative to the competition. To supplement the model, Chase provides 5 key tips to strategy prosperity and over 50 examples from a broad range of businesses that help the reader think about how they can use his Strategy First toolkit. The author will inspire readers to examine the effectiveness of their current strategies, using the model that has served him in his distinguished career.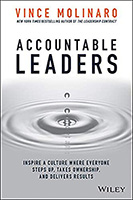 Accountable Leaders: Inspire a Culture Where Everyone Steps Up, Takes Ownership, and Delivers Results by Vince Molinaro
Accountable Leaders is the real-world guide to propelling your business to extraordinary levels of performance and achievement. Leadership accountability is a major issue in organizations around the globe. Research has shown that teams and individual employees are overwhelmingly dissatisfied with the degree of accountability demonstrated by their leaders. Effective teams need responsible and accountable leaders―the solution seems simple. Yet, thousands of businesses are struggling with mediocre performance and widening gaps in leadership. This essential resource provides practical and no-nonsense strategies to transform any organization into a cohesive, highly motivated culture of accountable leaders and fully committed teams.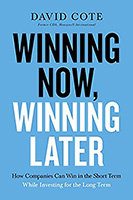 Winning Now, Winning Later: How Companies Can Win in the Short Term While Investing for the Long Term by David Cote
Short-termism is rampant among executives and managers today, causing many companies to underperform and even go out of business. With competition intense and investors demanding strong quarterly gains now, leaders all too often feel obliged to sacrifice the investments so necessary for long-term growth. Dave Cote is intimately familiar with this problem. Upon becoming Honeywell's CEO in 2002, he encountered an organization on the verge of failure, thanks to years of untrammeled short-termism. To turn the company around, he and his team adopted a series of bold operational reforms and counterintuitive leadership practices that enabled them to "do two conflicting things at the same time"--pursue strong short- and long-term results. The outcome was phenomenal.

For bulk orders call 1-626-441-2024

Build your leadership library with these specials on over 32 titles. All titles are at least 40% off the list price and are available only in limited quantities.
* * *
"There is more treasure in books than in all the pirate's loot on Treasure Island."
— Walt Disney
* * *


Like us on
Instagram
and
Facebook
for additional leadership and personal development ideas.

Posted by Michael McKinney at 06:09 PM
Permalink | Comments (0) | This post is about Books