Leading Thoughts for May 7, 2020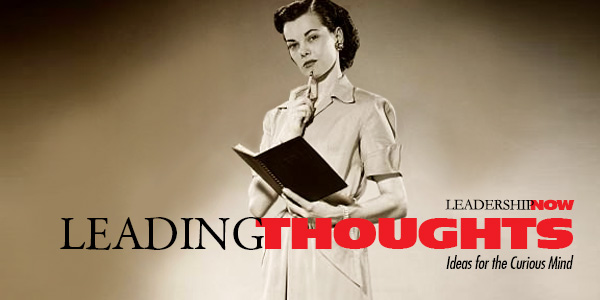 IDEAS shared have the power to expand perspectives, change thinking, and move lives. Here are two ideas for the curious mind to engage with:
I.
Lance Secretan on doing the hard thing and playing to people's strengths instead of complaining about their weaknesses:
"We cannot guide the brilliance of others by getting everyone to do something the same way; we guide the brilliance of others by playing to their strengths, teasing greatness from them by honoring their gifts, and making it as easy as possible for them to be brilliant at what they do. Sameness and conformity are easier to manage, but their price is mediocrity and demotivation. On the other hand, even though guiding brilliance sometimes feels like putting sock on an octopus, it is a gift to the soul—inspiration."
Source: Inspire: What Great Leaders Do
II.
English journalist and author Clifford Longley on the purpose of life:
"Western civilization suffers from a strong sense of moral and spiritual exhaustion. Having constructed a society of unprecedented sophistication, convenience and prosperity, nobody can remember what it was supposed to be for. Just enjoying it does not seem to be enough. Indeed, enjoyment as an end in itself quickly turns to ashes in the mouth. Not only is it boringly bland, it is even more boringly purposeless. There is more to human life than comfort, entertainment, and the avoidance of suffering. Or there ought to be."
Source: From the introduction to Faith in the Future by Jonathan Sacks
* * *
Look for these ideas every Thursday on the Leading Blog. Find more ideas on the LeadingThoughts index.
* * *


Like us on
Instagram
and
Facebook
for additional leadership and personal development ideas.
Posted by Michael McKinney at 08:53 AM
Permalink | Comments (0) | This post is about Leading Thoughts