Leading Thoughts for April 30, 2020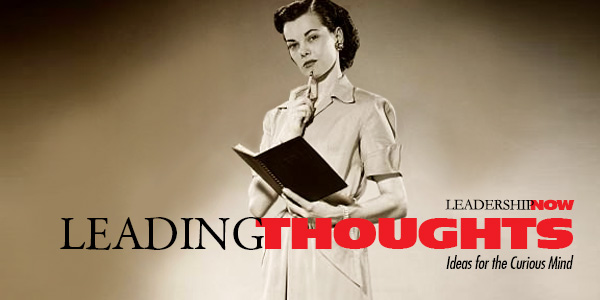 IDEAS shared have the power to expand perspectives, change thinking, and move lives. Here are two ideas for the curious mind to engage with:
I.
Astronaut Chris Hadfield on the power of knowing what could go wrong:
"In order to stay calm in a high-stress, high-stakes situation, all you really need is knowledge. … Feeling ready to do something doesn't mean feeling certain you'll succeed, though of course that's what you're hoping to do. Truly being ready means understanding what could go wrong—and having a plan to deal with it. … Being forced to confront the prospect of failure head-on—to study it, dissect it, tease apart all it's components and consequences—really works. After a few years of doing that pretty much daily, you've forged the strongest possible armor to defend against fear: hard-one competence."
Source: An Astronaut's Guide to Life on Earth: What Going to Space Taught Me About Ingenuity, Determination, and Being Prepared for Anything
II.
Richard P. Feynman on leaving room for doubt so that the door is open to critical thinking and learning:
"A scientist is never certain. We all know that. We know that all our statements are approximate statements with different degrees of certainty; that when a statement is made, the question is not whether it is true or false but rather how likely it is to be true or false. … Scientific knowledge is a body of statements of varying degrees of certainty -- some most unsure, some nearly sure, none absolutely certain."
Source: The Pleasure of Finding Things Out: The Best Short Works of Richard P. Feynman
* * *
Look for these ideas every Thursday on the Leading Blog. Find more ideas on the LeadingThoughts index.
* * *


Like us on
Instagram
and
Facebook
for additional leadership and personal development ideas.
Posted by Michael McKinney at 07:13 AM
Permalink | Comments (0) | This post is about Leading Thoughts