Leading Thoughts for April 23, 2020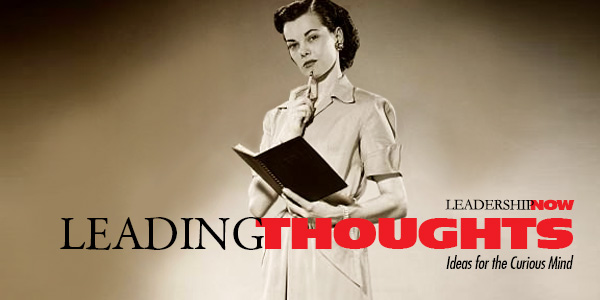 IDEAS shared have the power to expand perspectives, change thinking, and move lives. Here are two ideas for the curious mind to engage with:
I.
John W. Gardner on dealing with the divisions in our society:
"No society can successfully resolve its internal conflicts if its only asset is cleverness in the management of these conflicts. It must also have compelling goals that are shared by the conflicting parties; and it must have a sense of movement toward these goals. All conflicting groups must have a vision that lifts their minds and spirits above the tensions of the moment."
Source: Excellence: Can We Be Equal and Excellent Too?
II.
In a tribute to John Foster Dulles who died on May 24, 1959, Walter Lippmann comments on the duty of public servants:
"Perhaps the highest function of a public servant in a free and democratic society is to preserve its oneness as a community while he fights the battle which divide it. John Foster Dulles never lost sight of that. He never forgot, as so many public men do, that after the issue which is up for debate is settled, those who took part in the debate must still live and work together. That is the reason way among his countrymen there is no rancor, and why the sorrow of his opponents and critics is genuine."
Source: Dulles: A Tribute, Today and Tomorrow, May 26, 1959
* * *
Look for these ideas every Thursday on the Leading Blog. Find more ideas on the LeadingThoughts index.
* * *


Like us on
Instagram
and
Facebook
for additional leadership and personal development ideas.
Posted by Michael McKinney at 07:22 AM
Permalink | Comments (0) | This post is about Leading Thoughts