Leading Thoughts for April 16, 2020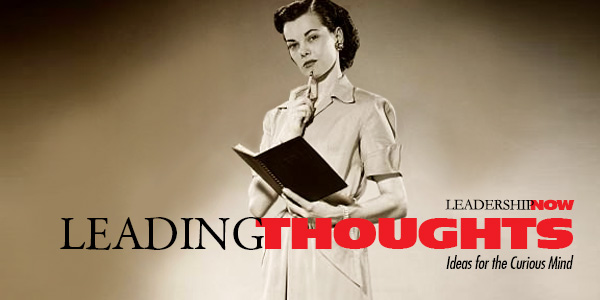 IDEAS shared have the power to expand perspectives, change thinking, and move lives. Here are two ideas for the curious mind to engage with:
I.
Jack Trout on the simple approach to success:
"Trying harder, believing in yourself, walking on fire, and saying, 'yes I can' are not steps up the ladder of success. The surprising truth is that success does not spring from anything inside yourself at all. Success is something given to you by others.

When you focus on yourself, you haveonly one ticket on he race. By expanding your horizon to include others, you greatly incree the odds in your favor. In other words, success is finding a horse to ride. And you only find tha horse when you shrug off your preoccupation with your inner self—when you open your mind to the outside world, when you search for success outside of yourself. The good news is, success is all around you."
Source: The Power of Simplicity by Jack Trout with Steve Rivkin
II.
Jack Welch on communicating simply:
"For a large organization to be effective, it must be simple. For a large organization to be simple, its people must have self-confidence and intellectual self-assurance. Insecure managers create complexity. Frightened, nervous managers use thick, convoluted planning books and busy slides filled with everything they've known since childhood. Real leaders don't need clutter. People must have the self-confidence to be clear, precise, to be sure that every person in their organization—highest to lowest—understands what the business is trying to achieve. But it's not easy. You can't believe how hard it is for people to be simple, how much they fear being simple. They worry that if they're simple, people will think they're simpleminded. In reality, of course, it's just the reverse. Clear, tough-minded people are the most simple."
Source: Harvard Business Review: Speed, Simpicity, Self-Confidence: An Interview with Jack Welch
* * *
Look for these ideas every Thursday on the Leading Blog. Find more ideas on the LeadingThoughts index.
* * *


Like us on
Instagram
and
Facebook
for additional leadership and personal development ideas.
Posted by Michael McKinney at 09:43 AM
Permalink | Comments (0) | This post is about Leading Thoughts