Leading Thoughts for March 26, 2020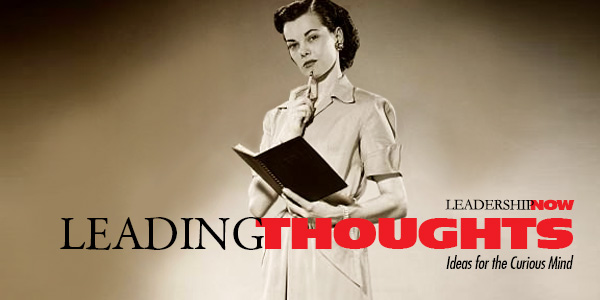 IDEAS shared have the power to expand perspectives, change thinking, and move lives. Here are two ideas for the curious mind to engage with:
I.
Bill Welter and Jean Egmon on the difficulty on truly seeing the world as it is:
"Paradigms are wonderful shortcuts as we think about the world, but they are deadly if they are not attuned with reality. All of us are bombarded with increasing waves of data and sensory inputs, and whether we realize it or not, we have become increasingly resistant. It's not so much a case of having to pay attention to the news of the world as it is a case of knowing when to change our filters so that the important stuff comes in."
Source: The Prepared Mind of a Leader: Eight Skills Leaders Use to Innovate, Make Decisions, and Solve Problems
II.
The American entrepreneur and investor Sam Altman on persistence and luck:
"A big secret is that you can bend the world to your will a surprising percentage of the time—most people don't even try, and just accept that things are the way that they are. People have an enormous capacity to make things happen. A combination of self-doubt, giving up too early, and not pushing hard enough prevents most people from ever reaching anywhere near their potential.

"Ask for what you want. You usually won't get it, and often the rejection will be painful. But when this works, it works surprisingly well. Almost always, the people who say "I am going to keep going until this works, and no matter what the challenges are I'm going to figure them out", and mean it, go on to succeed. They are persistent long enough to give themselves a chance for luck to go their way."
Source: How To Be Successful
* * *
Look for these ideas every Thursday on the Leading Blog. Find more ideas on the LeadingThoughts index.
* * *


Like us on
Instagram
and
Facebook
for additional leadership and personal development ideas.
Posted by Michael McKinney at 11:19 AM
Permalink | Comments (0) | This post is about Leading Thoughts