First Look: Leadership Books for March 2020
Here's a look at some of the best leadership books to be released in March 2020. Don't miss out on other great new and future releases.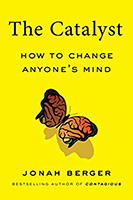 The Catalyst: How to Change Anyone's Mind by Jonah Berger
Everyone has something they want to change. Marketers want to change their customers' minds and leaders want to change organizations. Start-ups want to change industries and nonprofits want to change the world. But change is hard. Often, we persuade and pressure and push, but nothing moves. Could there be a better way? This book takes a different approach. Successful change agents know it's not about pushing harder, or providing more information, it's about being a catalyst. Catalysts remove roadblocks and reduce the barriers to change. Instead of asking, "How could I change someone's mind?" they ask a different question: "Why haven't they changed already? What's stopping them?"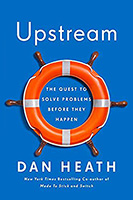 Upstream: The Quest to Solve Problems Before They Happen by Dan Heath
So often in life, we get stuck in a cycle of response. We put out fires. We deal with emergencies. We stay downstream, handling one problem after another, but we never make our way upstream to fix the systems that caused the problems. Cops chase robbers, doctors treat patients with chronic illnesses, and call-center reps address customer complaints. But many crimes, chronic illnesses, and customer complaints are preventable. So why do our efforts skew so heavily toward reaction rather than prevention? Upstream probes the psychological forces that push us downstream—including "problem blindness," which can leave us oblivious to serious problems in our midst.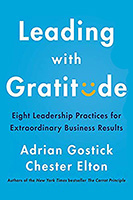 Leading with Gratitude: Eight Leadership Practices for Extraordinary Business Results by Adrian Gostick and Chester Elton
Workers want and need to know their work is appreciated. Showing gratitude to employees is the easiest, fastest, most inexpensive way to boost performance. New research shows that gratitude boosts employee engagement, reduces turnover, and leads team members to express more gratitude to one another—strengthening team bonds. Studies have also shown that gratitude is beneficial for those expressing it and is one of the most powerful variables in predicting a person's overall well-being—above money, health, and optimism.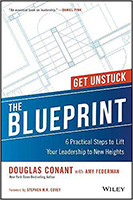 The Blueprint: 6 Practical Steps to Lift Your Leadership to New Heights by Doug Conant
In 1984, Doug Conant was fired without warning and with barely an explanation. He felt hopeless and stuck but, surprisingly, this defeating turn of events turned out to be the best thing that ever happened to him. Doug began to consider what might be holding him back from realizing his potential, fulfilling his dreams, and making a bigger impact on the world around him. Embarking on a journey of self-reflection and discovery, he forged a path to revolutionize his leadership and transform his career trajectory. Ultimately, Doug was able to condense his remarkable leadership story into six practical steps. It wasn't until Doug worked through these six steps that he was able to lift his leadership to heights that ultimately brought him career success, joy, and fulfillment.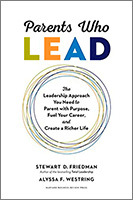 Parents Who Lead: The Leadership Approach You Need to Parent with Purpose, Fuel Your Career, and Create a Richer Life by Stewart D. Friedman and Alyssa F. Westring
Parents in today's fast-paced, disorienting world can easily lose track of who they are and what really matters most. But it doesn't have to be this way. As a parent, you can harness the powerful science of leadership in order to thrive in all aspects of your life. Drawing on the principles of his book Total Leadership—a bestseller and popular leadership development program used in organizations worldwide--and on their experience as researchers, educators, consultants, coaches, and parents, Stew Friedman and coauthor Alyssa Westring offer a robust, proven method that will help you gain a greater sense of purpose and control.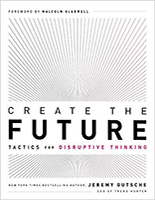 Create the Future + the Innovation Handbook: Tactics for Disruptive Thinking by Jeremy Gutsche
What potential is so close within your grasp? What are you actually capable of? Create the Future teaches you how to think disruptively, providing specific steps to create real innovation and change. It combines Jeremy's high energy provocative thinking with tactics that have been battle tested through projects with leading innovators like Disney, Starbucks, Amex, IBM, Adidas, Google, and NASA. Better yet, this is a double-sided book. Create the Future is paired with a revised edition of Jeremy's award-winning innovation handbook, Exploiting Chaos.

For bulk orders call 1-626-441-2024

Build your leadership library with these specials on over 39 titles. All titles are at least 40% off the list price and are available only in limited quantities.
* * *
"There is more treasure in books than in all the pirate's loot on Treasure Island."
— Walt Disney
* * *


Like us on
Instagram
and
Facebook
for additional leadership and personal development ideas.

Posted by Michael McKinney at 11:37 AM
Permalink | Comments (0) | This post is about Books