Leading Thoughts for February 27, 2020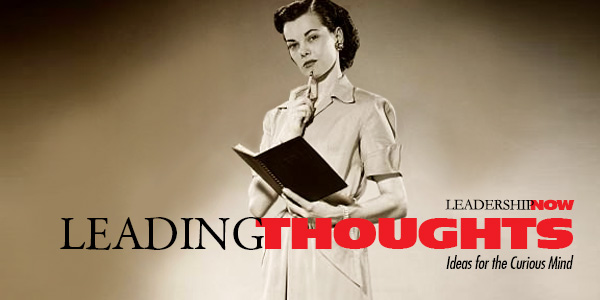 IDEAS shared have the power to expand perspectives, change thinking, and move lives. Here are two ideas for the curious mind to engage with:
I.
Microsoft CEO Satya Nadella shares his love of learning:
"The one thing that I would say that defines me is I love to learn. I get excited about new things. I buy more books than I read or finish. I sign up for more online courses than I can actually finish. But the thing about being able to watch people do great things, learn new concepts, is something that truly excites me."
Source: Steve Clayton, Microsoft's chief storyteller, interviews CEO Satya Nadella. YouTube (4:44)
II.
Jon Gordon on leading with optimism, positivity, and belief:
"Ultimately, being a positive leader is all about leading with faith in a world filled with cynicism, negativity, and fear. We all face this battle between faith and fear. A leader's job is to fill your people with faith. How we respond to our world depends on the stories we tell ourselves. When you face adversity you can tell a positive story and then work to create a positive outcome. It's always your state of mind and your thinking that produces how you feel and respond. When you see that the world has no power over you, you will lead more powerfully in the world."
Source: The Power of Positive Leadership
* * *
Look for these ideas every Thursday on the Leading Blog. Find more ideas on the LeadingThoughts index.
* * *


Like us on
Instagram
and
Facebook
for additional leadership and personal development ideas.
Posted by Michael McKinney at 02:43 PM
Permalink | Comments (0) | This post is about Leading Thoughts