Five Foundational Truths of Youth Marketing (and Leadership)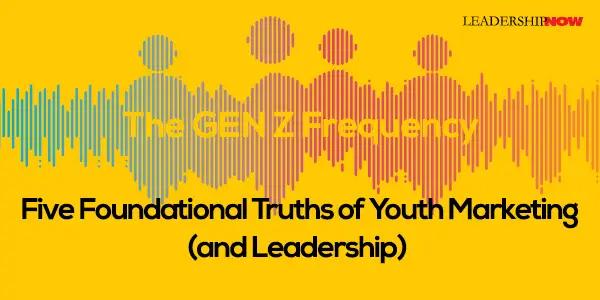 WHO IS Gen Z? They are people born between 1996 and 2011. What is their frequency? Their generational voice is diverse, engaged, knowledgeable, pragmatic, collaborative. And while they share common values, they are very independent.
In The Gen Z Frequency, authors Gregg Witt and Derek Baird tackle this demographic which is projected to be the largest consumer demographic in history. The HRC Retail Advisory forecasts this generation to drive 40% of all US consumer spending, and yet it is one of the most challenging generational cohorts for brands to reach.
It is an important and comprehensive book for marketers, but there are some principles they share that have a much wider application, that I wanted to share. In the book, they list the five foundational truths of youth marketing (and leadership). Each truth is introduced by a well-chosen quote that is worth applying more broadly in a leadership context. They are:
Truth 1: Identity
Gone are the days when brand identity is built with a bullhorn. We all know that brand identity is now the sum of every consumer experience, but that doesn't mean covering the spread of fragmented media with one brush stroke. In our opinion, context is just as important as content. It's about brands boldly proclaiming a belief in why they exist in the first place, then proving it in ways that shape-shift within the medium and the context of media. In other words, prove that you are who you say you are in as many ways as you can. –Adam Wilson, 2018, Former director of brand marketing for Carhartt, North America
Truth 2: Trust
Trust? It's everything. When it's there, when it's really there, that's how a brand gets brought to life, protected and defended, grown and shared in the most authentic and powerful way possible. Trust takes belief, belief takes faith, and faith takes nurture and care. It takes more than a product, a promise, or a campaign. We work to earn trust in everything we say, everything we make and everything we do. Period. This is an important lesson I learned early on and continue to bring with me wherever I go. –Nicholas Tran, 2017, marketing executive and thought leader at global consumer electronics brand
Truth 3: Relevance
Staying relevant with Gen Z requires brands to stay on the pulse of everything happening in culture. And not just a gut check a few times a year…it requires a daily pulse of what this audience is talking about, feeling, and connecting with emotionally. From politics to pop culture, Gen Z admires brands who are willing to engage in timely conversations. –Michael Abata, 2018, cultural and consumer futurist
Truth 4: Possibility
Find a creator – a real creator, not a fake one – one that speaks to and inspires the audience you're after. Partner with them for six months, a year or longer with a goal of becoming a true member of that creator's community. Don't tell them what to say – instead enable them – and through them, their community – to go places, do things, discover possibilities. Become part of that creator's community, but let the creator chart the course, set the sails and choose the destination. You're not buying media; you're not running a campaign. You're joining a community. Be respectful, but generous, but mostly keep your mouth shut. With the right match between creator, community and brands, the results will be amazing. –Jim Louderback, 2018, CEO Vidcon
Truth 5: Experience
A fundamental part… perhaps the fundamental part of humanity is to derive meaning from our existence, in the broader context of the universe. Gen Z is coming of age in a time period where we are constantly given digital reminders that we are not alone. An individual experience, recorded on a Snapchat or Instagram story, is almost immediately integrated into a broader 'story' pooled together by hashtag or geographic location. Technology has given us the tools to show us, in real-time, that we are one piece of a much larger puzzle. Brands need to become part of this larger puzzle and contribute to the overall experiences of this generation. –Sara Unger, 2018, Senior Vice President, Cultural Insights and Strategy, Civic Entertainment Group
* * *


Like us on
Instagram
and
Facebook
for additional leadership and personal development ideas.
* * *


Posted by Michael McKinney at 08:52 AM
Permalink | Comments (0) | This post is about Leadership Development