First Look: Leadership Books for February 2020
Here's a look at some of the best leadership books to be released in February 2020. Don't miss out on other great new and future releases.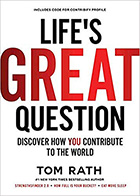 Life's Great Question: Discover How You Contribute To The World by Tom Rath
Life is not what you get out of it . . . it's what you put back in. Yet our current means for summarizing life's work, from resumes to salaries, are devoid of what matters most. This is why the work we do is often bad for our wellbeing, when it should be making us happier and healthier. What are the most meaningful contributions we can make? This is Life's Great Question. Life is about what you do that improves the world around you. It is about investing in the development of other people. And it is about efforts that will continue to grow when you are gone. Life's Great Question will show you how to make your work and life more meaningful, and greatly boost your wellbeing. In this remarkably quick read, author Tom Rath describes how finding your greatest contribution is far more effective than following talent or passion alone.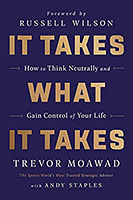 It Takes What It Takes: How to Think Neutrally and Gain Control of Your Life by Trevor Moawad with Andy Staples
As the most trusted mental coach in the world of sports, Trevor Moawad has worked with many of the most dominant athletes and the savviest coaches. From Nick Saban and Kirby Smart to Russell Wilson, they all look to Moawad for help finding or keeping or regaining their com­petitive edge. (As do countless business leaders and members of special forces.) Moawad's motivational approach is elegant but refreshingly simple: He replaces hardwired negativity, the kind of defeatist mindset that's nearly everybody's default, with what he calls "neutral thinking." His own special innovation, it's a nonjudg­mental, nonreactive way of coolly assessing problems and analyzing crises, a mode of attack that offers luminous clarity and su­preme calm in the critical moments before taking decisive action. Not only can neutral thinking raise your performance level-it can transform your overall life.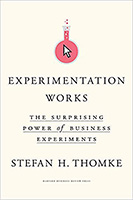 Experimentation Works: The Surprising Power of Business Experiments by Stefan H. Thomke
When it comes to improving customer experiences, trying out new business models, or developing new products, even the most experienced managers often get it wrong. They discover that intuition, experience, and big data alone don't work. What does? Running disciplined business experiments. And what if companies roll out new products or introduce new customer experiences without running these experiments? They fly blind. That's what Harvard Business School professor Stefan Thomke shows in this rigorously researched and eye-opening book. It guides you through best practices in business experimentation, illustrates how these practices work at leading companies, and answers some fundamental questions: What makes a good experiment? How do you test in online and brick-and-mortar businesses? In B2B and B2C? How do you build an experimentation culture?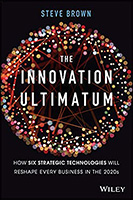 The Innovation Ultimatum: Six strategic technologies that will reshape every business in the 2020s by Steve Brown
Most businesses identify six key digital technologies―artificial intelligence (AI), distributed ledgers and blockchain, the Internet of Things (IoT), autonomous machines, virtual and augmented reality, and 5G communication―as critical to their relevance and growth over the coming ten years. These new disruptive technologies present significant opportunity for businesses in every industry. The first businesses to understand automation and these transformative technologies will be the ones to reap the greatest rewards in the marketplace. The Innovation Ultimatum helps leaders understand the key technologies poised to reshape business in the next decade and prepare their organizations for technology-enabled change. Using straightforward, jargon-free language, this important resource provides a set of strategic questions every leader will need to ask and answer in order to prepare for the impending changes to the business landscape.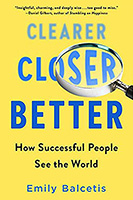 Clearer, Closer, Better: How Successful People See the World by Emily Balcetis
When it comes to setting and meeting goals, we may see—quite literally—our plans, our progress, and our potential in the wrong ways. We perceive ourselves as being closer to or further from the end than we may actually be depending on our frame of reference. We handicap ourselves by looking too often at the big picture and at other times too long at the fine detail. But as award-winning social psychologist Emily Balcetis explains, there is great power in these misperceptions. We can learn to leverage perceptual illusions if we know when and how to use them to our advantage. A mind-blowing and original tour of perception, Clearer, Closer, Better will help you see the possibilities in what you can't see now. Inspiring, motivating, and always entertaining, it demonstrates that if we take advantage of our visual experiences, they can lead us to live happier, healthier, and more productive lives every day.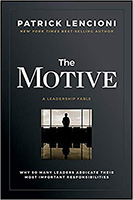 The Motive: Why So Many Leaders Abdicate Their Most Important Responsibilities by Patrick Lencioni
New York Times best-selling author Patrick Lencioni has written a dozen books that focus on how leaders can build teams and lead organizations. In The Motive, he shifts his attention toward helping them understand the importance of why they're leading in the first place. In what may be his edgiest page-turner to date, Lencioni thrusts his readers into a day-long conversation between rival CEOs. Shay Davis is the CEO of Golden Gate Alarm, who, after just a year in his role, is beginning to worry about his job and is desperate to figure out how to turn things around. With nowhere else to turn, Shay receives some hard-to-swallow advice from the most unlikely and unwanted source―Liam Alcott, CEO of a more successful security company and his most hated opponent. Lencioni uses unexpected plot twists and crisp dialogue to take us on a journey that culminates in a resolution that is as unexpected as it is enlightening.

For bulk orders call 1-626-441-2024

Build your leadership library with these specials on over 39 titles. All titles are at least 40% off the list price and are available only in limited quantities.
* * *
"The man who does not read good books is no better than the man who can't."
— Mark Twain
* * *


Like us on
Instagram
and
Facebook
for additional leadership and personal development ideas.

Posted by Michael McKinney at 05:42 PM
Permalink | Comments (0) | This post is about Books