Becoming Interdependent as A Team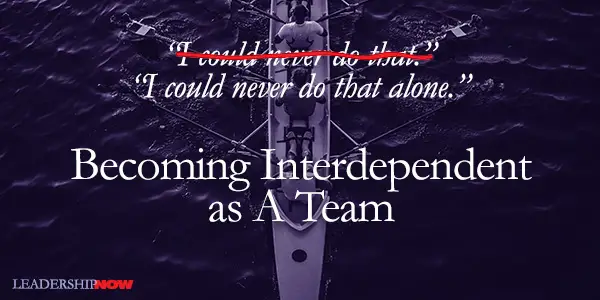 THIRTY-FIVE DAYS, 14 hours, and 3 minutes. That's how long it took Jason Caldwell and the crew of the American Spirit to row 3,000 miles across the Atlantic Ocean during the 2016 Talisker Whiskey Atlantic Challenge. They not only succeeded but set a world record.
Success like this is a result of the teams you build and how you chose to lead them. Jason Caldwell calls it Emotion-First Leadership. In Navigating the Impossible, Caldwell takes us through his journey to becoming an elite-rower to explain how he learned to build teams and lead them to perform in challenging conditions.
Quit Like A Winner
His journey began by quitting. He quit baseball after an injury and went to the boathouse to qualify to row eights. The important thing is to quit like a winner. "Quitting is nothing more than weighing two variables and finding that one of them has stopped being worth it." What is your threshold for suffering and sacrifice for the goal you have set before you? Failure isn't quitting—it's never finding out what you should be doing. Your path to success often begins the day you realize what your focus should be.
The path to doing difficult things is not mindless enthusiasm. It is to learn about yourself. Learning about yourself is the only way to block out negativity, endure past adversity, and meet the goal you've set.
Building A High-Performance Team
High-performance team members are interdependent. That interdependency is achieved by leveraging a single emotion—trust. As a leader, do you have the team member's best interests at heart? You can't fake it.
The best way to be authentic and built this type of trust on your team is to worry less about the alignment of your strategies and more about the alignment of your own emotions. Do you care about your people? Are you more concerned about who they are becoming, or do you care only about what they are capable of producing for your bottom line? Do you pull hard for them before asking them to pull hard for you?
Leveraging the emotions of your team is about asking each person "what they want to be, and then you create for them the opportunity to be what they want." This is not static. People change, and their motivations change, and you need to "need to make it your mission to become obsesses with those evolutions."
Gathering Points
Emotional connections are built over time through hundreds of individual connections—interactions. You can't pull an all-nighter to make this happen. You can't cram for it. Instead, you need to take advantage of gathering points.
In rowing, "gathering points are the places in the stroke where you are expected to check your alignment to make sure it's in line with that of the team." If not, you reset and realign. (Alignment: When rowing, "I wasn't trying to copy him. I was anticipating.") Caldwell said the emotional connection didn't happen in the boat or in the gym, "it happened at the bar or at dinner or late at night in the boathouse." As a high-performance team leader, you need create as many of these gathering points as possible.
You need gathering points that your team can't get enough of. Gathering points that the team craves are the result of a team that knows why they are doing what they are doing and have set before them a challenging goal that they genuinely want to be a part of. "If your environment is mundane, it means you are not asking enough of the team you lead. If there is no challenge, who cares about checking in with one another."
Caldwell offered this litmus test of a team that I found meaningful: "If losing a member of your team is no big deal, then you don't have a team at all."
The best teams are always personal. Human emotions are the cornerstones of high performance, and leveraging them requires building connections through consistently looking for and hitting gathering points.
Navigating the Impossible is full of insightful lessons about team building pulled from the experiences of rowing to eventually winning the 2016 Talisker Whiskey Atlantic Challenge. The annual race that begins in early December is indeed the world's toughest row. The death-defying challenge of it all and the emotion of the race is captured well in Caldwell's retelling of the adventure.
It's not just about hitting that sales number or winning that race. It's about you and your teammates discovering together what can happen when emotional human beings connect and commit to a goal. Once you see that, you'll be changed.
* * *


Like us on
Instagram
and
Facebook
for additional leadership and personal development ideas.
* * *


Posted by Michael McKinney at 05:28 PM
Permalink | Comments (0) | This post is about Teamwork