First Look: Leadership Books for August 2019
Here's a look at some of the best leadership books to be released in August 2019. Don't miss out on other great new and future releases.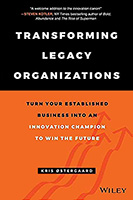 Transforming Legacy Organizations: Turn your Established Business into an Innovation Champion to Win the Future by Kris Østergaard
Transforming Legacy Organizations provides real-world advice and research-based information on how to grow innovation by employing new technologies, improving processes, and establishing a culture of creativity and forward momentum. Conventional business wisdom views innovation as the biggest advantage startups have over large, established organizations, often referred to as legacy organizations. This belief is false, especially when considering that 70% of all startups fail within 20 months of their first venture round. The truth is innovation initiatives of legacy organizations have far better chances of succeeding.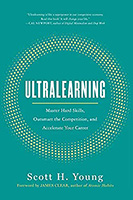 Ultralearning: Master Hard Skills, Outsmart the Competition, and Accelerate Your Career by Scott Young
In these tumultuous times of economic and technological change, staying ahead depends on continual self-education—a lifelong mastery of fresh ideas, subjects, and skills. If you want to accomplish more and stand apart from everyone else, you need to become an ultralearner. The challenge of learning new skills is that you think you already know how best to learn, as you did as a student, so you rerun old routines and old ways of solving problems. To counter that, Ultralearning offers powerful strategies to break you out of those mental ruts and introduces new training methods to help you push through to higher levels of retention.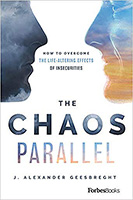 The Chaos Parallel: How To Overcome The Life-Altering Effects of Insecurities by J Alex Geesbreght
Everyone has insecurities. Like with most insecurities–especially those that are not self-inflicted–we don't tend to "fix" or "get over" them; they are always with us and a part of who we are. However, if we are honest with ourselves, we can recognize them, understand them, and seek to find a way to live our most authentic lives free from the chaos they often create.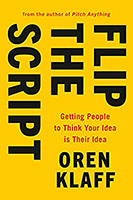 Flip the Script: Getting People to Think Your Idea Is Their Idea by Oren Klaff
Oren is throwing out the old playbook on persuasion. Instead, he'll show you a new approach that works on this simple insight: Everyone trusts their own ideas. If, rather than pushing your idea on your buyer, you can guide them to discover it on their own, they'll believe it, trust it, and get excited about it. Then they'll buy in and feel good about the chance to work with you. That might sound easier said than done, but Oren has taught thousands of people how to do it with a series of simple steps that anyone can follow in any situation. And Oren has been in a lot of different situations.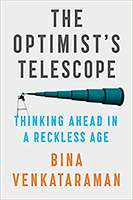 The Optimist's Telescope: Thinking Ahead in a Reckless Age by Bina Venkataraman
Instant gratification is the norm today—in our lives, our culture, our economy, and our politics. Many of us have forgotten (if we ever learned) how to make smart decisions for the long run. Whether it comes to our finances, our health, our communities, or our planet, it's easy to avoid thinking ahead. The consequences of this immediacy are stark: Superbugs spawned by the overuse of antibiotics endanger our health. Companies that fail to invest stagnate and fall behind. Hurricanes and wildfires turn deadly for communities that could have taken more precaution. Today more than ever, all of us need to know how we can make better long-term decisions in our lives, businesses, and society. Bina Venkataraman sees the way forward.

For bulk orders call 1-626-441-2024

Build your leadership library with these specials on over 39 titles. All titles are at least 40% off the list price and are available only in limited quantities.
* * *
"If we encounter a man of rare intellect, we should ask him what books he reads."
— Ralph Waldo Emerson
* * *


Like us on
Instagram
and
Facebook
for additional leadership and personal development ideas.

Posted by Michael McKinney at 09:11 AM
Permalink | Comments (0) | This post is about Books