First Look: Leadership Books for June 2019
Here's a look at some of the best leadership books to be released in June 2019. Don't miss out on other great new and future releases.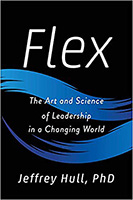 Flex: The Art and Science of Leadership in a Changing World by Jeffrey Hull
Jeffrey Hull shares the secrets, strategies, and science underlying his, and his clients', successes. Interweaving real-life stories with practical tips and the latest evidence-based research, he equips readers with the insights they need to thrive in today's world. Based on his popular classes with Harvard Medical School physicians and NYU business students, Hull has identified the six key elements that leaders in this new workplace need to succeed: Flexibility, Intentionality, Emotional Intelligence, Realness, Collaboration, and Engagement.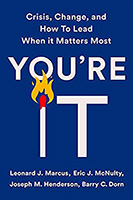 You're It
: Crisis, Change, and How to Lead When It Matters Most by
Leonard Marcus, Eric McNulty, Joseph M. Henderson and Barry C. Dorn
Today, in an instant, leaders can find themselves face-to-face with crisis. An active shooter. A media controversy. A data breach. You're It takes you to the front lines of some of the toughest decisions facing our nation's leaders-from how to mobilize during a hurricane or in the aftermath of a bombing to halting a raging pandemic. The authors introduce readers to the pragmatic model and methods of Meta-Leadership. They show you how to understand what is happening during a moment of crisis and change, what to do about it, and how to hone these skills to lead high-performing teams.

The Sponsor Effect
: How to Be a Better Leader by Investing in Others by
Sylvia Ann Hewlett
Many people know the benefit of finding a sponsor--someone who goes beyond traditional mentorship to partner with a junior-level employee to help build their skills, advocate for them when opportunities arise, and open doors. But few realize that being a sponsor is just as important to career growth as finding one. According to new research, senior executives who sponsor rising talent are 53 percent more likely to be promoted than those who don't. Similarly, middle-level managers who have proteges are 167 percent more likely to be given stretch assignments. But how do you find standout proteges, let alone develop them so that they're able to come through for you and your organization?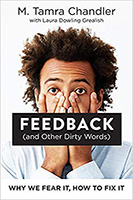 Feedback (and Other Dirty Words)
: Why We Fear It, How to Fix It by
M. Tamra Chandler with Laura Grealish
Feedback: the mere mention of the word can make our blood pressure rise and our defenses go up. However, if we take a step back and think about its true intent, we realize that feedback needn't be a bad thing. After all, understanding how others experience us provides valuable opportunities to learn and grow. When it's done right, feedback has been proven to be the most effective means of improving communication and performance for you and your organization.

Reboot
: Leadership and the Art of Growing Up by
Jerry Colonna
One of the start-up world's most in-demand executive coaches, Jerry Colonna helps start-up CEOs make peace with their demons, the psychological habits and behavioral patterns that have helped them to succeed—molding them into highly accomplished individuals—yet have been detrimental to their relationships and ultimate well-being. Reboot is a journey of radical self-inquiry, helping you to reset your life by sorting through the emotional baggage that is holding you back professionally, and even more important, in your relationships.

For bulk orders call 1-626-441-2024

Build your leadership library with these specials on over 39 titles. All titles are at least 40% off the list price and are available only in limited quantities.
* * *
"The habit of reading is the only enjoyment in which there is no alloy; it lasts when all other pleasures fade."
— Anthony Trollope
* * *


Like us on
Instagram
and
Facebook
for additional leadership and personal development ideas.

Posted by Michael McKinney at 08:22 AM
Permalink | Comments (0) | This post is about Books