16 Rules for Effective Decision-Making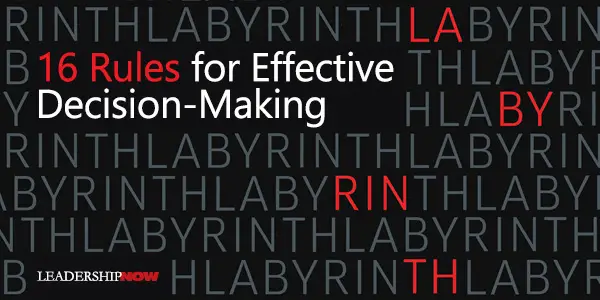 WHERE WE GO in life is determined by the choices we make. How we make those decisions becomes critical. The speed of change, the abundance of choices, the unknown unknowns, and the impact of a connected world, all conspire to make decision-making a labyrinth. We face traps everywhere.
In Labyrinth: The Art of Decision-Making, Pawel Motyl examines "The most prevalent weak spots in decision-making processes, not only in business but in life in general; during crisis and calmer times; in both individual and group decisions."
I agree with Motyl that "We really do live in a world where everything is out of whack and everything we thought we knew is being called into question." It calls for a deeper look at not just what we think, but more importantly how we think and a clear understanding of how we got there.
Motyl digs into the series of decisions that led to some of the modern world's most dramatic events: from the Cuban missile crisis to the 1996 Mount Everest climbing disaster; from the Apollo 13 rescue mission to the ill-fated Daimler–Chrysler merger.
Using many and varied examples Motyl reveals 16 rules for effective decision-making. The rules with the accompanying narrative are well-researched and intriguing. Here is the overview:
Rule #1
Prepare for a black swan (an unpleasant surprise or event that we cannot predict from prior experience), because one thing is certain: sooner or later you will meet one. Because of easy access to information and globalization, black swan events are on the rise.
Rule #2
The better it's going, and the more successful you are, the more you are at risk of turkey syndrome. The deeper you fall into turkey syndrome, the nastier your black swan will be.
Rule #3
The more you admire someone, the more critically you should examine their opinions. The more exciting somebody's vision seems, the more closely you should test its foundations in reality. This fundamental misunderstanding comes into play here: "a harmonious group = a tight group = an effective group"
Rule #4
The more everyone around insists something is impossible, the more you should check it yourself. Several times.
Rule #5
The greater the investment of time, effort, money, and our own reputation, the harder it is to objectively assess a situation and make the right decision.
Rule #6
If you find yourself in a black swan situation, go into inquiry mode. Whatever your intuition or experience is telling you may be wrong.
Rule #7
Set up your own Executive Committee. Surround yourself with people who don't think like you. Value those who disagree with you, and who aren't afraid to say it.
Rule #8
When improving and organization, also pay attention to the best and most efficient processes. In a black swan situation, they can fail. Do you have a backup plan?
Rule #9
Shoot down Concordes and hunt for monkey habits. Eliminating loss-making projects and bad practices frees up time for other things, increasing a company's agility and flexibility.
Rule #10
Recognize the value of your failures (and those of others). Thoroughly analyze your past failures and draw in depth, objective, and actionable conclusions for the failure.
Rule #11
Never stop shaping the organizational culture. It can be your greatest ally, or your worst enemy, in making the right decisions.
Rule #12
Great leaders are distinguished by their awareness that greatness is no guarantee of infallibility.
Rule #13
Don't be a "decision drunk"—use data for illumination, not only for support. Data can be a great ally, when properly analyzed.
Rule #14
Never ignore the values and convictions of other generations, especially those only just entering the market. Even if their influence on decision-making today is minimal, the new normal means this may change sooner than you expect.
Rule #15
The world of data overload is also a word of new possibilities. Actively seek out opportunities to engage a cost-free force that can radically improve the quality of your decision-making.
Rule #16
Encourage and create leaders around you. Dispersed leadership involves many people, which means there is less risk of a single person making a poor strategic choice
* * *


Like us on
Instagram
and
Facebook
for additional leadership and personal development ideas.
* * *


Posted by Michael McKinney at 09:06 AM
Permalink | Comments (0) | This post is about Problem Solving