Who Will Lead Us Tomorrow?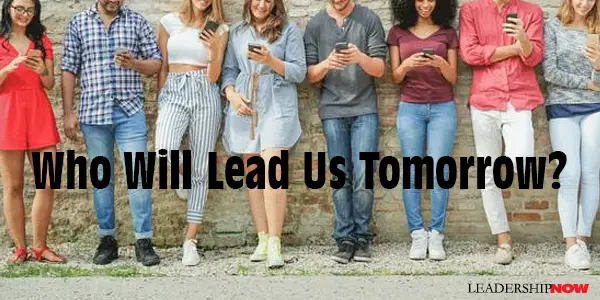 W
E ARE RAISING TODAY, the men and women who will lead us tomorrow. It is a responsibility that should not be taken lightly. It should be done with forethought and with a consideration of the kind of world we hope they and we will live in when it's their turn to lead.
Developing leaders places a huge responsibility on us today that goes beyond telling those future leaders what we think. To develop leaders, we must not only envision the leaders we want tomorrow, but we must behave in the manner of the leaders we want to see.
We may not like the leadership or lack of it that we see today, but if our reaction to anything we don't like is anger, outrage, hatred, and vicious rhetoric, we are endorsing those values by way of example. Unwittingly, we perpetuate hatred, outrage, and vulgarity in the leaders of tomorrow. They learn to lead by watching us "lead."
Martin Luther King succeeded because he calmly but passionately painted a picture of a world that appealed to our morality. He shared a positive idea to replace a negative idea without attacking other people. His example had moral weight. He was silenced by hatred. Hatred and anger is an idea without reason—it's unreasonable—a rudderless opinion with no foundation.
We must be the leaders we want to see developed in the generations that follow us. If you want leaders who listen, who are understanding, compassionate, civil, and respectful, then we must display those values in our dealings with what we see happening around us. If not, we are the problem. If we want others to respect us and listen to us, we must respectfully listen to them. We talk when we should be listening.
If we believe people should be respectful of each other, then we must be those people. Returning in kind is tempting and sometimes funny, but it does nothing but add to the discord we see around us. Real leaders resist the temptation and rise above it. Our response should be one that is conscious and empathetic of the other person's frustration and often misplaced angst. To do anything else only adds to the destructive division we see today.
Real leaders connect, they don't divide. They focus on similarities, not differences. We often think that if I don't yell, I won't be heard, but we aren't heard because we are yelling. The most strident voice is not the leader. Harsh words do not connect with others. "Blood in the streets" is not a mature response to disagreement.
When we become the leaders we should be, those that follow will learn to lead the way they should. As we learn and grow, those around us will learn and grow. We are modeling now the kind of leadership we will have in the future.
American poet Edwin Markham's poem captures the need for us to grow into the leaders we want others to be:
We are all blind until we see
—That in the human plan
Nothing is worth the making if
—It does not make the man.

Why build these cities glorious
—If man unbuilded goes?
In vain we build the work, unless
—The builder also grows.
If we want our children to be intentional about their lives, we must too be intentional about ours with the end in mind—with the consequences of our personal behavior in mind. Meaningful lives are built; they don't just happen. If we want them to be adults, we must act like adults. We are shaping the character of future leaders today. We must resolve to be the leaders we wish to see.
What will our future leaders be like? Who will lead us tomorrow? What legacy are we leaving for our children? We only need to look at ourselves.
* * *


Like us on
Instagram
and
Facebook
for additional leadership and personal development ideas.
Posted by Michael McKinney at 07:54 AM
Permalink | Comments (0) | This post is about Leadership