Six Essential Practices to Grow Your Leadership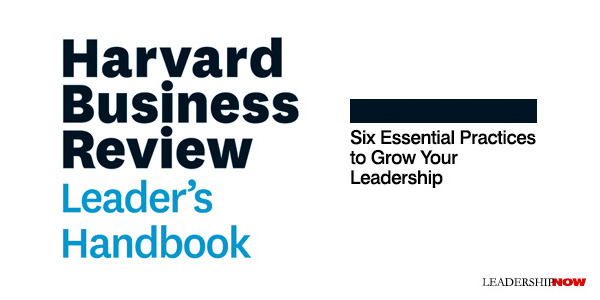 T
HE
Harvard Business Review
has enlisted the expertise of Ron Ashkenas and Brook Manville to create the
Leader's Handbook
. The context of leadership has changed, but the fundamentals of leadership have not. It is still working with people. And that has never changed.
It is in this spirit that the authors state, "the best way for any aspiring leader to succeed and to navigate turbulent times is to tune out the noise and refocus on these fundamentals" of leadership. They define leadership as "Achieving significant positive impact—by building an organization of people working together toward a common goal."
The Harvard Business Review Leader's Handbook is designed to help you grow your leadership. It is organized around six practices. While not meant to be all-encompassing, these are areas that "differentiate those who have the strongest impact." Naturally, an understanding of human nature—the so-called soft skills—makes these six practices exploitable. The six practices are practical and provide a useful guide taking responsibility to lead and improve your effectiveness.
Building a Unifying Vision
Organizational success requires a bold and compelling vision that brings people together and inspires them to achieve extraordinary results. The vision needs to be exciting, clear, and simple—and stakeholders should be involved in its creation.
Developing a Strategy
Implementing a strong, measurable strategy is the key to realizing a vision. A great strategy is composed of key actionable choices about what to do, and what not to do to create distinctive value. Strategies are iteratively developed in the context of the company's audience, challenges, and opportunities.
Getting Great People on Board
Smart and dedicated people help bring strategies to life. Executing strategies skillfully begins with recruiting, developing, and retaining high-performing talent. People need feedback to grow and incentives to feel recognized.
Focusing on Results
The experience of achieving short-term results motivates teams to strive for even more. Setting high expectations and sharpening accountability is necessary for high performance. Sold metrics and reviews can help this process become an organized one.
Innovating for the Future
Balancing current performance while investing for tomorrow is a key for enduring success. By keeping an eye on the demands of the future, leaders can continually drive innovations that will reshape the company to keep up with a changing world.
Leading Yourself
In order for leaders to lead others, they need to know and grow themselves. Feeling healthy, energized, and balanced also helps leaders do their best work. Leaders need to raise their own bar—in turn they'll raise it for their organization.
Grasp the Leadership Opportunity Already In Your Reach
The authors make a good point. You shouldn't wait to be anointed a leader. Step up and take the responsibility now.
Seizing the leadership opportunity and making the leadership difference in fact requires courage and also an ability to look beyond the every day and near-term tasks of basic management.… To be a leader, you need to anticipate like a great chess player who looks ten moves ahead and also quickly adjusts to the opponent's play.

This doesn't mean that you should completely ignore the current challenges of your organization and focus only on the future. On the contrary, your customers, clients, employees, investors, and partners are all counting on you to keep your eye on the present and ensure that you're doing what's needed to get results.
* * *


Like us on
Instagram
and
Facebook
for additional leadership and personal development ideas.
* * *

Posted by Michael McKinney at 07:02 PM
Permalink | Comments (0) | This post is about Leadership Development