Co-Active Leadership
I
T'S EASY TO THINK that you need a title to be a leader. So much of what we talk about when we talk about leadership is in the context of a title. It's also easy to think that there's only one way to lead.
In
Co-Active Leadership
, Karen and Henry Kimsey-House define leadership as "those who are responsible for their world." So much of leadership is about initiative—taking responsibility. In this sense, anyone can choose to lead. "Leadership development, then, becomes about growing the size of the world for which one is able to be responsible." Naturally, this would mean not only becoming "first-class noticers" but increasing one's competence.
A multidimensional view of leadership allows for anyone to lead. The authors have created the
Co-Active Leadership
model that is multidimensional. "Everyone, at different times, plays all five roles, shifting from dimension to dimension as the circumstances and the needs of the moment require."
The five dimensions are: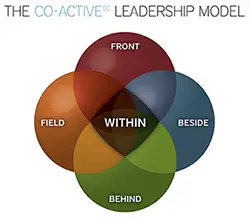 Co-Active Leader Within
This is where all leadership begins—from within. It begins with taking responsibility for who you are, knowing your values, and then leading in alignment with those values. I agree with the authors that what we need to lead is within us, but leading with a "take me as I am" approach can lead to disaster. Self-awareness is about seeing who I am in relation to those I impact and asking ourselves if this is the person I want to be. Opening our heart is not enough. The bigger question is what is motivating the heart. From "Within" we move into the other dimensions as appropriate.
Co-Active Leader in Front
Leading in front is not about being in charge. A
Co-Active Leader in Front
fosters a "connection with the people who are following them and stand firmly for a clear direction and purpose." They understand too that it is not about them, it's also about creating the space for others to step up and share their knowledge and creativity. It's about providing
guidance
.
Co-Active Leader Behind
This is about service.
Co-Active Leaders Behind
"focus on providing whatever is needed and, through openhearted and enthusiastic participation, advance the action in a way that holds everyone together." They are most concerned about the whole. It's about
encouraging
others.
Co-Active Leader Beside
Two can be better than one.
Co-Active Leaders Beside
"take responsibility for their world by creating their partnership around a shared vision and intention and supporting each other's strength to generate a powerful synergy in which the whole is much greater than the sum of the parts." It's about
partnering
with team members.
Co-Active Leader in the Field
The field referred to here is "the energetic field that surrounds all of life and offering us information all the time." So
Co-Active Leaders in the Field
is "about expanding our attention beyond individual people to connect with the energetic field that surrounds life." It's about drawing on
insights
from beyond the rational mind. It about sensing and connectedness.
Seeing leadership as more than top-down command, frees anyone to lead. Seeing leadership in the multi-dimensional way the authors present here, enriches a leaders responses and approaches to any given situation.
* * *


Like us on
Instagram
and
Facebook
for additional leadership and personal development ideas.
* * *

Posted by Michael McKinney at 11:45 AM
Permalink | Comments (0) | This post is about Leadership