What if Sellers Behaved as Leaders?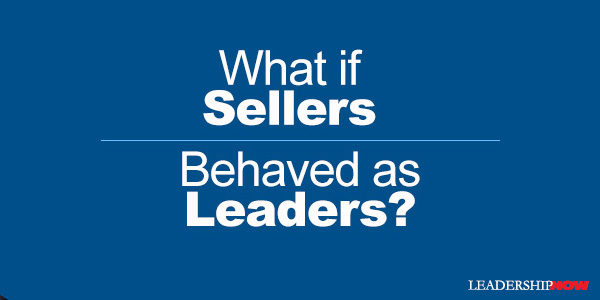 J
AMES KOUZES, Barry Posner and Deb Calvert have taken the ideas from the classic leadership book,
The Leadership Challenge
and asked, "What if sellers behaved as leaders?" What if sellers stopped selling and started leading?
In
Stop Selling and Start Leading
, the authors report that buyers what sellers who create personalized value and build bonds of trust, sellers who provide a meaningful and relevant experience, and sellers who demonstrate genuine leadership. Your buyers want you to inspire and motivate them while giving them an opportunity to participate in creating something extraordinary. They want you to collaborate with them, strengthen them, and encourage them in the process. This book demonstrates how to change from a selling mindset to a leadership mindset that buyers want.
Using the
Five Practices of Exemplary Leadership
they found that sales effectiveness, like leadership effectiveness, can be significantly increased by choosing to behave differently. Without a doubt, leaders are always selling.
Briefly the Five Practices are:
Model the Way
The first step is getting in touch with your personal values and beliefs. It an inside job. Selling from who you are will give you credibility. "Buyers are on the lookout for seller behaviors that demonstrate credibility, reliability, relate-ability, and an orientation focused mostly on the interests of others."
Inspire a Shared Vision
Like shared values, a shared vision requires finding common ground with your buyers. Translate the solution you are selling into benefits relevant so the buyer so that they can clearly see themselves a part of it. "Exemplary leaders don't impose their visions of the future on people; they liberate the vision that's already stirring in their constituents." Create a story. "When you weave the emotional connection to what matters most to the buyer together with the logical case for change, you animate the vision."
Challenge the Process
A seller who leads is always listening and always learning. They are always looking for ways to improve and challenge the status quo. Take the initiative to find dissenting and diverse views. "Making assumptions about buyers' needs happens all the time in selling. Sellers often have a preconceived notion of what product or solution will work best for a buyer. As the buyer describes his or her needs, the seller subconsciously filters what's being said and mentally prioritizes the information that confirms what the seller set out to sell." Leaders always remain open to alternative paths and provide value to the buyer in the process.
Enable Others to Act
Of all the Practices, Enable Others to Act matters the most to buyers. Buyers want to share control of the sale. It makes them feel trusted, informed, and empowered. One buyer said, "A seller who can brainstorm to improve my business with my own ideas and make them come true is my choice every time." Mutual respect. "When sellers invest in relationships, buyers will too."
Encourage the Heart
Through the Practice of Encouraging the Heart, sellers cement meaningful connections with their buyers. Thank, recognize, and encourage your buyers. "If a buyer is making decisions you like, taking actions you want to support, or otherwise behaving in ways that move you closer to your shared vision, then you will want to see more of those actions. Recognizing them increases your chances of seeing more of the same." Create a spirit of community. "Buyers measure seller caring by the extent they are listening, empathizing, collaborating, asking questions, sharing a vision, and being encouraging."
Everyone Has the Responsibility to Lead
Sellers who lead bring out the best in others and make extraordinary things happen. You can give your buyers "the courage to persevere when they meet challenges and must work inside their organizations to champion the shared vision."
You can sell by example, create a story, find alternatives and exciting opportunities for your buyers, respect and enable others as part of a team, and say 'thank you." Differentiate yourself by leading. "The more frequently you choose to lead, the more you will create those awesome connecting experiences that make extraordinary things happen."
* * *


Like us on
Instagram
and
Facebook
for additional leadership and personal development ideas.
* * *

Posted by Michael McKinney at 06:02 PM
Permalink | Comments (0) | This post is about General Business