How to Harness the Power of Your Intuition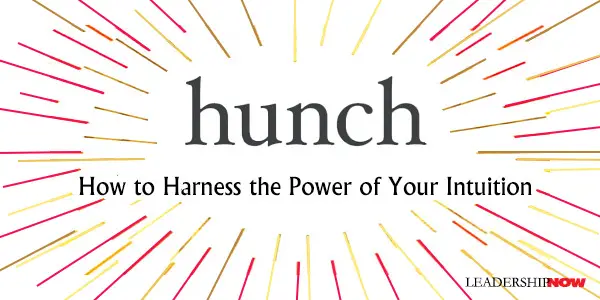 T
HE SECRET to the visionaries we celebrate is that they made connections that others overlooked. They saw their hunches as opportunities. They are smart people to be sure, but their
A-ha
moments come from "their prolonged practice of being curious, empathetic and imaginative." It is possible to be intentional about this process—to harness your creativity and imagination and seek out opportunities to create and serve.
Hunch
by Bernadette Jiwa, is an invitation to pay attention to your hunches, reawaken skills you've neglected or forgotten, and develop new capabilities you need.
Hard data has its place, but it only describes a part of reality. "The more we defer to hard data alone to shine a light on the truth, the more we neglect opportunities to nurture inherent curiosity, develop emotional intelligence and cultivate imagination."
We are in danger of becoming a generation of plugged-in, look-it-uppers who are more ready to take things at face value and less willing to inquire or explore. More satisfied with proof and less open to discovery. More inclined to consume rather than create. More fearful of uncertainty than open to possibility.
There is a tension to be managed here. The tension between certainty and uncertainty. From our uncertainty, we need to learn to ask the right questions. Our answers are no better than our questions.
Groundbreaking ideas are only groundbreaking because they solve a problem. An idea in search of a problem is irrelevant.

A hunch, says Jiwa, "is a combination of insight and foresight, brought about by understanding what is and questioning what could be." It is informed by "our expertise, past experiences and the practice of noticing patterns and anomalies in the world around us."
A hunch happens at the intersection of Curiosity, Empathy, and Imagination.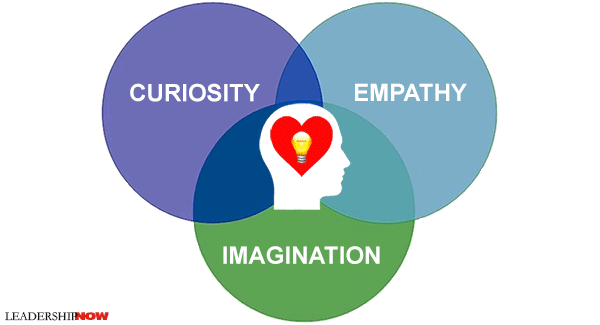 Curiosity
Interest + Attention: Learn to see problems and discern which ones are worth solving.
Curiosity stems from caring to know what you don't know. Hunger for the novel. We have never had the opportunity to look for more answers and yet we have forgotten the importance of stopping to question. Spend 15 minutes to sit and observe. Records what you see. Notice frustrations. What's wrong and how could it be fixed?
Empathy
Worldview + Understanding: Understand how it feels to be the person with the problem.
Empathy is feeling
with
someone not
for
them. It is an undervalued and largely untapped resource. Figure out what is important to people. What are they trying to do but can't?
Imagination
Context + Experience: Build on what is already understood in order to connect ideas and describe new possibilities for the future
. Give yourself permission to imagine. Challenge assumptions. Examine a product that you really love. What works for you? What doesn't? Give yourself permission to be bored. Do a mundane physical task. Research has proven that we're more creative following he execution of a boring task that doesn't require us to use our imagination.
We are shaped and influenced by our environments and that is our choice. What is shaping you? "Moments of insight are shaped by the experiences that lead up to them, and we cannot ever know the true impact of the thousands of experiences and encounters that made each of us who we are—or how they influence the judgements we will go on to make." Genius is where you look for it. Begin.
* * *

Like us on
Facebook
for additional leadership and personal development ideas.
* * *

Posted by Michael McKinney at 08:24 AM
Permalink | Comments (0) | This post is about