Be a Spark!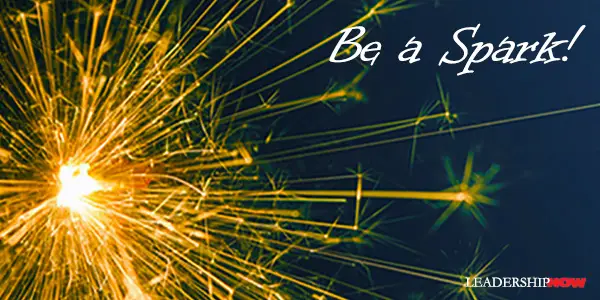 T
O co-authors Angie Morgan, Courtney and Sean Lynch, to be a Spark is to be a leader. "You must recognize yourself as a leader. Know the pathway to leadership development and commit yourself to it. You're not chosen to be a leader. You choose to lead." When you behave like a leader you become a Spark.
Sparks initiate action and create the conditions for success for themselves and others.
Knowing the pathway to leadership development is a personal development job. In SPARK: How to Lead Yourself and Others to Greater Success, they offer seven essential behaviors that every leader needs to develop. None of us are born leaders. These behaviors are not innate and take time to develop.
Character:
By gaining awareness of what you truly value, you can think and act in ways that allow you to direct your life and have influence over others. Leading with your own values is the gateway to leading others.
Credibility:
Credibility is the foundation of your leadership style. It forms the basis of trust. If people can't trust you, you can't lead them.
Accountability:
Sparks resist the powerful, human instinct to place blame. They seek to identify how their own actions, or inactions, have contributed to the situations in which they find themselves in.
Act with Intent:
By having a clear vision and making choices consistent with it, take actions that lead themselves — and others — towards it. Sparks differentiate themselves by having the discipline and the fortitude to execute, even when they aren't sure what to do next.
Be of Service:
Sparks are always aware of others' needs and take action to meet them. This outward focus strengthens relationships and creates camaraderie and connection. When people feel cared for because you're serving them, they begin to feel safe and experience your commitment to them. They focus less on themselves and more on the team.
Confidence:
Your confidence level will determine the level of results you experience. Sparks don't leave their confidence to chance. They consciously manage their internal thought process to achieve a level of steadiness as their sense of confidence rises. We can control our confidence.
Consistency:
Sparks set a high standard for consistency in their everyday work. To achieve it, they first need to understand the value of readiness, know what perseverance really means, and have the courage to "own" their time. Consistency is about being a "sometimes person" or an "always person."
A chapter is devoted to each of these seven behaviors and conclude with practical suggestions on how to develop these qualities not only within yourself, but how to inspires others to begin their own Spark journey.
* * *


Like us on
Instagram
and
Facebook
for additional leadership and personal development ideas.
* * *

Posted by Michael McKinney at 05:26 PM
Permalink | Comments (0) | This post is about Leadership Development