The Reciprocity Advantage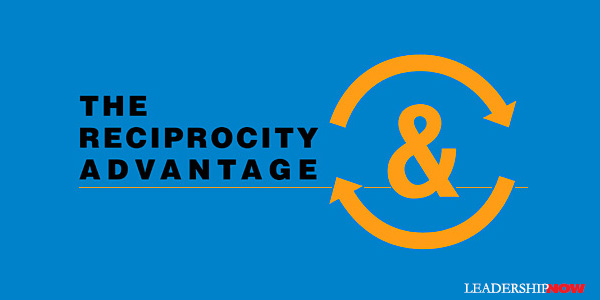 G
IVE TO GROW. Partner for greater value for more players.
In The Reciprocity Advantage, authors Bob Johansen and Karl Ronn state that the next competitive advantage will be reciprocity advantage. Reciprocity and advantage will spark new business models for innovation and growth.
Most business is transactional but "reciprocity is the practice of exchanging with others for mutual benefit. In a reciprocity-based model, I give you something, and at some later point in time, I trust that I will learn how to get even more value back in return." It's what the authors call "smart giving." "The reason for giving assets away isn't just about doing good—it's an important part of an ongoing value exchange spread over time where partners commit to looking out for each other as part of a shared vision."
While the principles they lay out apply both organizationally and individually, they note that reciprocity advantage must be done on a large scale to make a significant difference.
"A reciprocity advantage is a chance to do good while also doing very well. A reciprocity advantage is delicate to achieve and maintain. Go too wide, and you're a philanthropist. Go too narrow, and you'll be back doing transactions."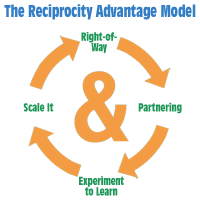 Four Steps to Reciprocity Advantage:

1. Uncover Your Right-of-Way
Your right-of-way is the space within which you can create your reciprocity advantage. Uncovering your own right-of-way involves understanding that every company is really in three businesses: Product, Service, and Experience. Which of your assets have value for others and could also help you create complementary business growth? Essentially, what underutilized assets could you give away now that would yield greater value later. The first step is to reassess your strengths to find those underutilized assets. Access to these assets is the right-of-way that will be the basis for your new partnerships.
You begin by defining your core business. This is where you will find the right-of-way assets you can share. Not all should be shared. You must do this inventory and then decide later what to keep and what to share.
Then reinvent your business as a service. The rights-of-way that your core needs to survive disruption are not to be shared. This would hurt your business. Instead, invest to prevent long-term obsolescence.
Finally, redefine your business as an experience. Having attained clarity on what you do as a service, focus on the users of your service. What are you being hired to do? By looking for services that people want but don't yet have, you will find new ways to complement your core business. The rights-of-way that enable this are the core of the new reciprocity business.
2. Find the Best Partners
Partnerships are hard. So don't form one unless you by doing so you are doing something that you could never do alone. In a VUCA World, partnerships are hedges against risk, but they will also be more attractive ways to innovate and grow scale. The best partners will demonstrate their worth by looking out for one another, thereby protecting themselves over time.
3. Learn by Experimenting
Prototype, listen, learn. Give away assets intelligently in order to learn how to create value in new ways. The goal is to experiment to learn in an open, low-cost, and repetitive way that allows for time to discover which questions to ask. How can you and your partners learn how to make money in new ways within your right-of-way?
4. Scale It
Creating your reciprocity advantage will allow you to make a big difference for a long time. Reciprocity is good, but massively scalable reciprocity is growth that reshapes industries. This requires designing for scale from the beginning. You will know your reciprocity advantage is ready to scale when your service or product meets three criteria—it's desirable, viable, and ownable.
So, how will you know if your idea is desirable, viable and ownable?
The authors have created a scorecard to direct your development efforts. Each of the three areas is divided into two opposing measures:
Is it desirable? To scale it must be transformational and intuitive. Is it viable? To be viable it must be affordable and structurally attractive. Is it ownable? It needs to be feasible at your intended scale and have a source of sustainable competitive advantage.
The breakthrough occurs when you resolve the three pairs of opposing forces. When you have all six parts working for you, run! Your idea is now no longer risky. Until then use keep experimenting cheaply.
The authors conclude, "We believe that givers will be much better at creating reciprocity advantage for their companies and for themselves."
* * *


Like us on
Instagram
and
Facebook
for additional leadership and personal development ideas.
* * *


Posted by Michael McKinney at 10:22 PM
Permalink | Comments (0) | This post is about General Business