4 Ways to Avoid False Humility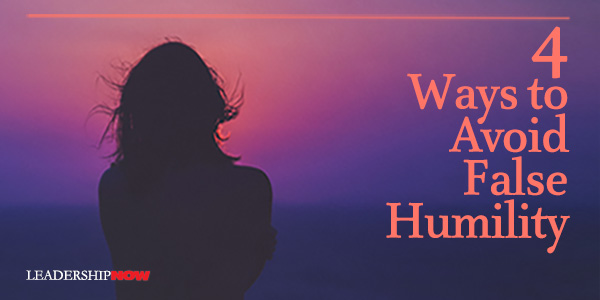 H
UMILITY IS A CHOICE. When you meet a humble person you know you will be accepted, respected and listened to. They won't try to manipulate you, control you, criticize you or try to impress you. They are safe.
When we haven't conquered our pride putting on false humility might seem like the shortcut to the benefits of being a truly humble person. We've all met these kinds of people. False humility is nothing but arrogance.
In Humility: The Secret Ingredient of Success, Pat Williams, author and senior vice president of the NBA's Orlando Magic, suggests four ways we can avoid the mask of false humility.
1. Take time to reflect on the person you are—and the person you want to be.

If we are genuinely humble, we are keenly aware of the disparity between who we are and who we aspire to be. We recognize that we have not already arrived, in terms of our character, integrity, and accomplishments. We are works in progress.
We need to remember that it's easy over time to become someone we really don't want to be. Williams cites Stanford professor Roderick Kramer:
When I ask respondents to explain why they think the process of experiencing great success will not change them in any fundamental way, they typically say something along the lines of, "Because I know what kind of person I am"….It is as if in finding success they will become merely bigger and better versions of what they are now. They can't even imagine that they could ever fall from grace. And that, of course, guarantees that some of them will.
2. Ask a few trusted friends to be brutally honest with you.
We all need people in our lives who will hold up a mirror and show us who we truly are so we won't be walking around with the moral equivalent of spinach in our teeth. Truth is a powerful antidote to self-deception and false humility. If you always have people in your life who will tell you the truth for your own good, and if you humbly need their wise counsel, they will save you from a multitude of self-inflicted wounds.
3. Immediately and humbly admit your faults and failures.
In other words, apologize without delay. Anyone who tries to achieve anything is bound to make mistakes. The greater your goals, the bigger your potential blunders. Our natural tendency is to deny our failings and shortcomings. We don't like to admit that we've messed up. We prefer to protect our pride and our egos.
If you want to recover from a moral failure or a lapse in judgment, the key is o apologize fully, specifically, and humbly. Don't try to get away with a non-apology apology. Be sincere. Take your lumps. Learn your lessons.
4. Be honestly humble and humbly honest.
Don't inflate your resume—but don't deflate it either. It's perfectly wise and acceptable to own yur achievements and state your qualifications. Just don't brag or take more credit than you've earned.
There's never any need for false modesty. False modesty tends to break down authentic humility because it becomes hard to know where your real humility leaves off and your phony humility begins. Yu become so accustomed to devaluing your own talent, accomplishments, and self-worth that you actually lose confidence in yourself. Yu stop speaking up, stop advocating for what you believe, stop pursuing your own goals. In short, you start believing your own self-deprecating falsehoods.
Genuine humility is the best policy. False modesty comes from ego and pride. As Canadian humorist Eric Nicol observed, "I am keenly aware of the need to avoid false modesty. Which, like false teeth, can make you talk funny."
* * *
Adapted from
Humility: The Secret Ingredient of Success
by Pat Williams with Jim Denney
* * *


Like us on
Instagram
and
Facebook
for additional leadership and personal development ideas.
* * *


Posted by Michael McKinney at 09:16 AM
Permalink | Comments (0) | This post is about Personal Development