Kaleidoscope: 9 Foundational Stones that Drive Sparkling Service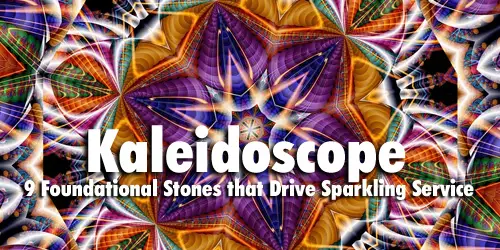 P
EOPLE DON'T talk about
good
service, "they boast about unique, captivating services experiences."
In
Kaleidoscope
, Chip Bell explores what makes an experience so good that people want to tell their friends about it.
What makes people become zealous advocates of your business?
Creating these kinds of customer experiences works in much the same way a kaleidoscope works.
Every time you turn a kaleidoscope you get a unique image, but the stones inside that form those images never change. They are the core of what makes the kaleidoscope work. Kaleidoscope is about these basic, foundational "stones" and concepts that should drive innovative customer service. These stones can be presented in unique combinations that will drive brilliant service.
Bell presents
nine stones that form the basis of sparkling innovative service
:
Enchantment:
How can you add a little magic? What could your service experience smell like, sound like, feel like, look like, taste like if you wanted to truly excite your customers in a fashion that sticks in their memory?
Grace:
Honor your customer. Graceful service is an assertion, not a response. It's an attitude not a tactic. Customers treated with goodness assume the behavior and attitude of goodness. Be the giver of hope your customers become. Respect is not what you believe; it is what you show. You can start igniting grace with a simple, "I am here to serve and daringly make a difference in your life."
Trust:
Honor and trust are the lifeblood of repeat business. Treat different customers differently. One-size-fits-all treatment shows ignorance of their uniqueness and indifference to learning about them. Find ways to make every customer's experience feel like it has his or her monogram on it.
Generosity:
Adopt an attitude of abundance. Give more than is expected. Great service means caring so much about the experience you are authoring or the product you are caretaking that you are willing to invest more in it, purely in the pursuit of the remarkable.
Truth:
Truth telling shortens the distance between people. It frees customers from anxiety and caution. It triggers a potent connection with the humanity in each of us. Everything in your customer's experience is personal. Corporate speak and sanitized legalese communication, by definition, violate that principle.
Mercy:
Mercy's presence in a relationship comes when it is being tested, challenged, or disputed. Mercy is more than forgiveness. It is a relationship surrendering to what it could be rather than controlling or containing what it is. It is neither an expression of pity nor an air of tolerance. Rather, it is expanding the boundaries of the relationship to allow it to reform, renew, and reward.
Alliance:
Customers enjoy being a partner. Great partnerships care about fairness, not a perfect fifty-fifty split. Great partnerships have built-in shock absorbers. They affirm their relationships more through ebb and flow than give and take. Examine your business practices. Do you make customers go to the nth degree to get what they need?
Ease:
The key to innovative service is appreciating its complexity, understanding its impact, and paying attention to the detail that rigger customer angst and discomfort. Be your customers' pathfinder to ease by examining their experience through their eyes, not yours.
Passion:
Passion-filled service is fundamentally about commitment. It is the outcome that results from the fervor to be all-in, to serve without reluctance. identify a service "souvenir" – a small, delightful takeaway that could extend the customer's experience beyond adieu.
Bell's focus in
Kaleidoscope
is delivering customer service experiences that are
value-unique
, not just value-added. Deliver a masterpiece.
* * *

Like us on
Facebook
for additional leadership and personal development ideas.
* * *

Posted by Michael McKinney at 07:58 AM
Permalink | Comments (0) | This post is about General Business