The Superboss Playbook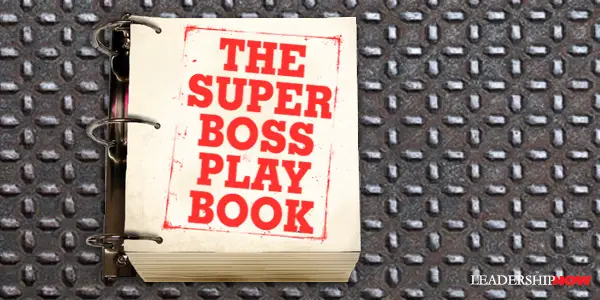 IMAGINE A WORLD a world where the person who you call your boss changed your life by helping you accomplish more than you ever thought possible.
In every industry there is a leader that stands out. A Superboss.

What is their secret?
In
Superbosses
, Sydney Finkelstein discovered that although they may differ in leadership styles, they share a playbook that leads to extraordinary success founded on making other people successful.
Superbosses can be fierce or gentle, belligerent or self-depreciating, but whatever their style, they do a much better job inspiring and teaching because they get in their trenches with protégés, leading by example and giving them personalized attention they require to move up quickly.
Here then is the outline of The Superboss Playbook – Techniques, Mind-Sets, Philosophies, and Secrets of the World's Best Bosses:
Superbosses recruit people who "get it."
They look for people who are drivers of change. They are unusually smart (Ralph Lauren looked for people with a kind of fashion sense), creative (people who see things differently), extremely flexible (people who can do more than one thing). "One critical way superbosses do that is by adapting the job description to fit the person, rather than make the person fit the job."

Superbosses motivate exceptional people to do the impossible.
They inject possibility into their workforce. They give them the confidence to believe that they can make things happen. Superboss Michael Milken said, "We are all capable of performing at a far higher level than we have. Faced with a challenge, we can do it. Maybe we're not challenging ourselves enough." Finkelstein adds, "Superbosses credibly push others into their discomfort zones because they model high performance themselves."
Superbosses are uncompromisingly open.
While superbosses protect the "why," they invite people to rethink everything else about the work they do. Most bosses are not really open to new ideas. "Rather than weaving innovation into the fabric of daily work, they contain and limit it by setting up special task forces, committees, and project teams devoted to adaptation and change. They 'carve out' time for innovation rather than living and breathing it every minute. It is particularly difficult to find bosses who are uncompromising in what they do and open to almost constant change."
Superbosses embrace the apprenticeship model.
They "use this informal manner of instruction not only to convey knowledge but also to exert a powerful, almost parental influence on their protégés." Operating a masters, they forge sustained, all-encompassing, intense, and intimate" relationships with the people that work for them.
Superbosses are traders in opportunities.
They trust their people and delegate. In the process they compress learning and growth. "Superboss organizations are widely regarded in their industries as launching pads—places where employees can, in word of their protégés, 'find themselves' and become 'capable of doing what we were ultimately meant to do." They give people the chance to succeed.
Superbosses fashion teams that function as a "band of brothers."
They "inculcate a cultish sense of difference in their protégés." Protégés are treated as leaders. "For superbosses, extreme collaboration and meaningful competition aren't opposites; they go hand in hand." Finkelstein explains: "One reason healthy, balanced competition is so valuable for organizations is that it generates a 'cohort effect' when it comes to talent; the more you help people become better, the more they help one another get better."
Superbosses create a strategic alumni network.
"Superbosses make an effort to stay in touch with their disciples, even years after they have left." When an employee walks out the door, the superboss does not consider the relationship over. It's in their best interests to do so. It increases their own prestige and influence. Successful protégés in their alumni network attract more talent to the superboss.
We need new approaches to nurturing people and the Superboss Playbook presented by Finklestein, is completely learnable by any leader who is fearless, competitive, imaginative, credible, and authentic.
Superbosses is a fascinating look at the leaders that flourish and often change their industries by developing a future generation of leaders.
If you are not working for one, this book will help you to become one.
* * *
The Three Types of Superbosses
Glorious Bastards: These superbosses care about one thing: winning. They're the ultimate hard drivers, yet they realize that to get the very best results, they need to develop the world's best people and teams. So they do.
Examples: Larry Ellison, Michael Milken, Bonnie Fuller, Julian Robertson, Jay Chiat
Nurturers: These coaches and teachers resemble traditional mentors the most. They take pride in bringing others along and care deeply about the success of their protégés. They help people accomplish more than they ever thought possible.
Examples: Mary Kay Ash, Bill Walsh, Michael Miles, Norman Brinker, Tommy Frist
Iconoclasts: These executives usually operate in creative fields, where their single-minded passion for their work inspires their protégés.
Examples: Ralph Lauren, Alice Waters, George Lucas, Jon Stewart, Lorne Michaels, Robert Noyce
Available too, is The Superbosses Playbook: A Workbook Companion to Superbosses. It shows readers how to apply the tactics of these "superbosses" in their own organizations. It features assessments, case studies, and exercises designed to help anyone recruit talent, lead performance, inspire teams, and even part with great people like a true superboss.
* * *


Like us on
Instagram
and
Facebook
for additional leadership and personal development ideas.
* * *

Posted by Michael McKinney at 08:40 PM
Permalink | Comments (0) | This post is about Leaders , Leadership , Management