Collaboration Begins with You

In
Collaboration Begins with You
, Ken Blanchard, Jane Ripley and Eunice Carew weave the tale of Dave Oakton, the head of a cross-departmental project that fails due to self-serving silos. What's more, the company offers "no incentives that encourage people to work together toward organizational goals. Managers get promotions and bonuses based on their own individual success and the success of their siloed groups—regardless of the success of the projects they work on or the company as a while."
Oakton, with the help of his sister-in-law Beattie, turns the tide and the culture changes. Along the way he learns that giving up his own ego first is a prerequisite to others giving up theirs. Beattie shows him a model for a collaborative culture:
Heart, Head, and Hands
. She explains that heart comes first because collaboration is an
inside-out mindset
. If your heart isn't right, you'll never be a place where you can make collaboration with others work. You have to get you right first. "When your heart is right, you want to bring out the best in others."
The
UNITE
acronym helps to remember the components necessary for the implementation of the Heart, Head, and Hands model.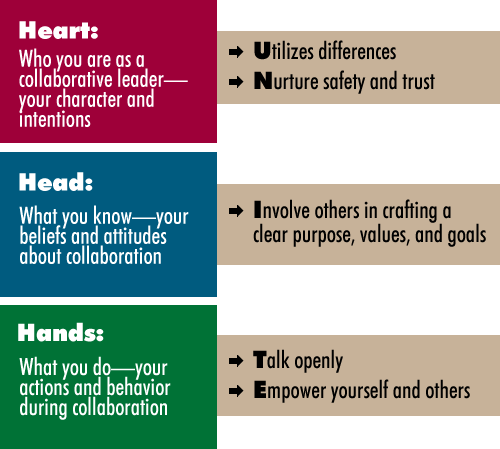 To team members
, they advise that they are the one's responsible for ensuring their opinion is heard. "If collaboration begins with me, it's up to
me
to make my intention clear that I want to contribute more."
Organizationally
, if collaboration begins with each individual, "the only people who should be promoted to leadership positions are those who allow others to contribute."
Empowerment
too begins with the individual. "In a culture of collaboration, individual contributors see themselves as self leaders. Leaders empower these individuals by building trust and coaching competence in their job roles and networking skills. And individuals also empower and inspire each other when they share ideas and deliver on their allotted tasks or goals.
A collaborative leader is a coach supporting people in their work and removing roadblocks.
Collaboration Begins with You
also contains a
self-assessment
to help you find out just how collaborative you are.
* * *

Like us on
Facebook
for additional leadership and personal development ideas.
* * *

Posted by Michael McKinney at 12:54 PM
Permalink | Comments (0) | This post is about Teamwork