Cleaning the Toilet Can Make You a Better Leader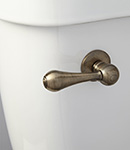 Leadership doesn't make you better than anyone else, it make you more responsible.
As a leader you are more than an individual contributor. Leaders think about the context—the big picture—not just their function. Focused on the outcome, they do whatever needs to be done to move the organization forward. They do whatever they can to facilitate the work of others.
Leaders are connected to what others are doing. And we can accomplish this be asking, "How can I help you?" And then doing what needs to be done.
Michael Janda Founder of the creative agency RiSER, put it this way in
Burn Your Portfolio
:
I believe you are a better person if you've ever had a job that required you to clean a public restroom. This humbling task teaches so many lessons, among which is the willingness to do whatever the job requires. I have seen over and over again in my career that the people who are willing to go the extra mile and do whatever task is required of them by their boss or client are among the most valued in the company.

Ultimately, cleaning public toilets early in life is not the only way to learn gratitude and humble service to others. Many people are fortunate to learn these lessons in their homes. Others are born with service built deep inside of them. Regardless of how you learn to serve, learn it and learn it well.
Doing what needs to be done—including cleaning toilets—is taking ownership for the outcome. Going the extra mile—doing what needs to be done—helps to create a true culture of leadership in your organization—by example.
We don't serve because we are leaders, we have the privilege to lead because we serve.
Posted by Michael McKinney at 09:34 PM
Permalink | Comments (0) | This post is about Leadership