How to Grow Your Ability to Detect Change Early

Leaders anticipate. It's what they do. It's the vision thing.
But how do you increase your personal visionary capacity? How do we look ahead and anticipate the future and turn it into a compelling story that ignites our followers?
Rob-Jan de Jong assures us in
Anticipate
that "We all can work consciously and continuously to grow our ability to anticipate, improve our game of looking ahead, have more remarkable insights, and become more inspirational in how we speak about the future."
He divides the process into four parts: Visionary Content (generating the ingredients that go into a powerful vision), Visionary Practices (developing the ability to see change early and connect the dots), Visionary Self (mindsets and attitudes that allow you to become more visionary), and finally Visionary Communication (the ability to verbalize and communicate your vision powerfully).
A good vision must be rational but it also has to connect emotionally. Two key components of a vision that gets results are
unconventionality
and a
connection to a noble cause
.
So often, where we get stuck is having a strong sensitivity to the world around us so that we can respond in an appropriate manner. Part two was useful in this regard.
Seeing into the future is a function of noticing – open-mindedness, listening, playfulness – and then being able to connect the dots or understanding the
implications
of the changing realities you see.
The author introduces a method he calls
FuturePriming
. It is increasing your awareness and picking up on seemingly hidden, peripheral signals. The way it works is to begin to create
FutureFacts
which are manifestations of a possible changing reality.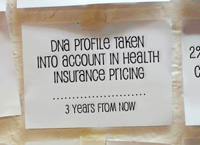 The process involves engaging your imagination to a current trend and creating a possible "headline" three to five years out. For example, based on current science a possible
FutureFact
or headline might be "DNA Profile Taken into Account in Health Insurance Pricing." this kind of headline is a concrete, telling headline you will remember, and will start to serve you as a prompt when you hear or read about something that's mildly similar.
You engage your imagination by entertaining unconventional, possibly disruptive, future events.

What matters in future thinking is to see and contemplate the impact of changes while you can still adapt and act, before the window of opportunity closes.
FuturePriming
is a very interesting approach to developing your awareness and to help you to become more sensitive to the seemingly random events you see happening in the world around you.
* * *

Like us on
Facebook
for additional leadership and personal development ideas.
* * *

Posted by Michael McKinney at 04:18 PM
Permalink | Comments (0) | This post is about Vision