Are You Trapped in Survival Mode?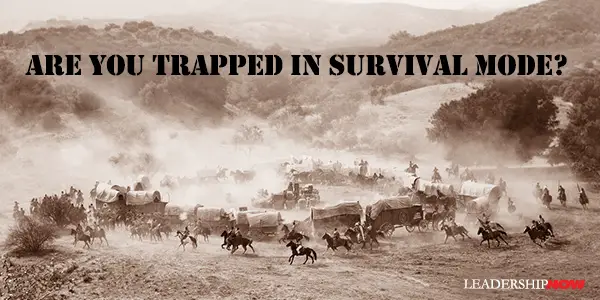 THOMAS PLUMMER is a coach to the fitness industry. In a Facebook post he advised fitness professionals:
The mindset of survival that keeps you alive in tough times is also what will kill your business during good times. Keeping a struggling business alive during tough markets is a skill that drains the life out of you. Everyday you fight for pennies, do the work of many and learn the techniques necessary to keep going when others are failing. This same mindset is also what leads to failure for these owners during good times because they forget how to attack the market and grow the business.

The skill set needed for survival mode, based upon lean spending, tight staff and little marketing, is totally different from the one needed to grow a business where bold and daring is often needed. It is easy to get trapped in survival mode and fail there because you never realize the market has changed and you haven't.

The New Year is upon us. Are you trapped in merely keeping what you have or are you willing to let go and let your business grow next year?

Question your mindset and style. You may be the problem and not the solution you think you are.
Most often the thing that got us to where we are is not the thing that will get us to the next place we need to go. Sometimes we get so focused on what we have become good at, that we miss the changes around us.
It's easy to get stuck repeating what we've always done. When we do we come from a place of weakness rather than strength.
Inertia can keep us from considering the possibilities. Reintroduce possibilities into your thinking. Survival isn't enough to give your life to. It's a self-defeating approach to life. Choose to be remarkable.
* * *


Follow us on
Instagram
and
Twitter
for additional leadership and personal development ideas.
Posted by Michael McKinney at 10:53 AM
Permalink | Comments (0) | This post is about General Business , Thinking