Do You Have Moxie?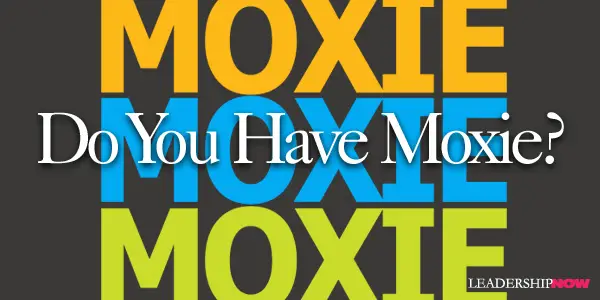 L
EADERS WITH MOXIE are leaders that have what it takes to lead others in tough circumstances. They are tough on the outside but soft on the inside. When knocked down they know how to get back up and they can bring others with them because they are likeable.
John Baldoni, author of
MOXIE
, says that "Leadership post-crash is not really any different from leadership pre-crash, except for one thing: resilience." Leaders with moxie have
four key attributes
:
Fire.
They have a passion for what they do and have a need to make a positive difference in the lives of others.
Drive.
They have ambition and want others to share in it.
Resilience.
They have known defeat and it doesn't scare them. They know how to pick themselves up after a fall.
Street Smarts.
They know how the world works and what makes people tick.
Baldoni breaks moxie down into
five characteristics
that you can practice and develop to be a leader that demonstrates moxie. Each characteristic is brought to life through the examples of leaders who have demonstrated it in their own life and leadership.
The first is
Mindfulness
. "A mindful leader knows the situation as well as his capabilities and those of the people around him." aware if his situation but at the same time focused on what could be done to improve it. Mindfulness "prepares leaders to focus on the present as well as prepare for the future"— to be aware of your situation but at the same time focused on what could be done to improve it.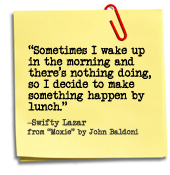 Second is
Opportunity
. "An opportunistic leader looks for ways to make things better. She is motivated by a desire to make a positive difference." That means a willingness to see beyond the immediate problem and see the possibilities over the horizon.
Third is
X-Factor
. "A leader with the X-Factor has what we call 'the right stuff of leadership.' She radiates character and uses her ambition to focus on the right goals. She has the persevering spirit that radiates resolve. Leaders with the X-Factor are humble, and their humility attracts others to them." The X-Factor is those things that allow you to do what you do well: character, beliefs and talent. These can all be examined and improved. In addition, look for opportunities to improve through more training and consider taking on responsibilities that stretch you.
Fourth is
Innovation
. "An innovative leader knows that life is not lived in a linear fashion. Sometimes you need to take risks. That means thinking differently, doing differently, and rewarding others who do the same." Leaders with moxie aren't content with the status quo. They are tuned to the future. A "forward-themed outlook is not merely one of observation, it is one of application….That gives rise to innovation."
Fifth is
Engagement
. "Persons with moxie seek to engage with the wider community around them. They are focused on making a positive difference in their teams and in their organizations." Leaders must work through others. "Engagement is an essential part of extending the leadership self in order to make a positive difference."
All of us can demonstrate moxie when the going gets tough. Preparing and developing yourself now sets you up to make better decisions when you do get knocked down.
Moxie
is full of great stories and examples making it immediately relatable and practical. It is structured so that you can thoughtfully and tactically look at each of these areas to see where you can better prepare yourself. Baldoni also provides an appendix that works as a handbook to guide you in this. Questions, examples, additional thoughts and action steps help you access where you are at and what you might need to do next.
Moxie is not just about your work life, it also impacts every other aspect of your life and positively influences the lives of those you touch.
Of Related Interest:

The Leader's Pocket Guide

Lead With Purpose

Lead Your Boss

Lead By Example
* * *


Like us on
Instagram
and
Facebook
for additional leadership and personal development ideas.
* * *

Posted by Michael McKinney at 06:50 PM
Permalink | Comments (0) | This post is about Personal Development