8 Reasons to Seek Out Ambiguity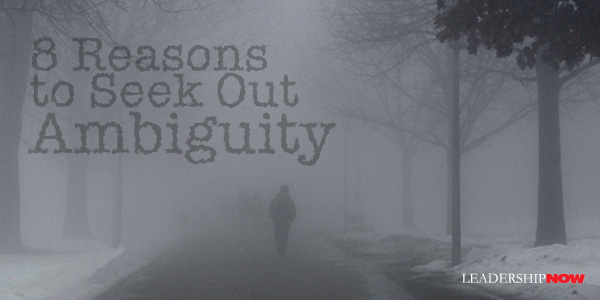 C
HANGE BRINGS with it chaos and ambiguity. We want order.
Ambiguity makes us uncomfortable so we want things ordered as soon as possible. But if we move too fast, we can miss out on the value that ambiguity brings. We need to embrace ambiguity until we have rung the last drop of value out of it.
Ambiguity draws attention to what we don't know.
Ambiguity gives us space to unlearn.
Ambiguity gives birth to new thinking and tools.
Ambiguity exposes opportunity.
Ambiguity ignites the spark of growth.
Ambiguity expands awareness.
Ambiguity is humble.
Ambiguity asks questions.
Ambiguity and order are tensions to be managed. There is a time and a place for both. Generally speaking, order reproduces—ambiguity creates. Order helps us to leverage our resources. But if we rush too fast to establish order we set ourselves up to repeat the thinking that got us to the point of needing the change in the first place. If we don't allow ambiguity to do its work, then we might find that the order we establish is incomplete—not well thought out—and doomed to failure.
Functioning with ambiguity requires a great deal of emotional intelligence—the ability to control your emotions, perceive other's emotions and to facilitate the expression and understanding of all emotions.
Without ambiguity we become dinosaurs.
* * *


Like us on
Instagram
and
Facebook
for additional leadership and personal development ideas.

Posted by Michael McKinney at 01:36 AM
Permalink | Comments (0) | This post is about Thinking