The Good Struggle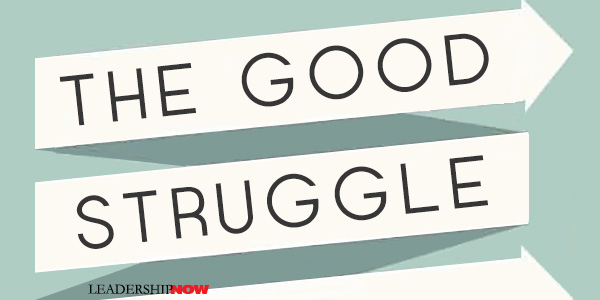 N
OT surprisingly, Joseph Badaracco has written an essential read for leaders of all kinds.
The Good Struggle
addresses the question of how to lead successfully and responsibly in our uncertain, high pressure, turbulent world.
Badaracco says that the inescapable pressures of leadership are intensified today because of the market-driven world in which we live.
"Almost everything—how we manage our organizations and our lives, how we make decisions at work and at home, and even how we think about ourselves—is deeply shaped by markets and market-based thinking."
This creates greater uncertainty, obscures right choices, and puts pressure on us to abandon principles that we used to rely on. Responsible leaders find themselves engaged in the good struggle: "a long effort, demanding perseverance and courage, to make good on serious but profoundly fallible commitments in an uncertain and often unforgiving world." He adds, "Struggle has always been central to accomplishing anything worthwhile, and this is especially true today."
He offers five enduring—inescapable—questions. Responsible leadership consists of thoughtful and lived answers to them.
Am I Really Grappling with the Fundamentals? "The first responsibility of leaders is intellectual. It is the struggle to develop—to the extent possible—a deep, careful, analytical, data-driven understanding of the driving forces in the markets and society around them and to keep this understanding loose, flexible, and revisable." Grasping the fundamentals can "reduce the chance of being blindsided, by encouraging the mental habit of looking for emerging patterns and odd developments with larger implications. It also promotes modesty, a healthy, low-level paranoia, and vigilance rather than hubris."
He notes that everything now is modular—constantly being recombined. "Recombination also makes it much harder for leaders to inculcate values when people in their organizations know they and their leaders are basically modules in a plug-and-play world and could be moving on soon. The natural instinct is to take care of yourself, here and now."
What Am I Really Accountable For? "Without clarity about accountability, leaders and their organization can drift or zigzag aimlessly." Of course, many leaders do not want to be accountable to anyone or anything. "Accountability originates in an obligation to make good on the spirit of some jointly designed, provisional, and evolving objectives." Here's the question for any leader: "What pressures, scrutiny, and risks do we want to create or invite in order to build a strong, resilient, responsible organization?"
How Do I Make Critical Decisions? We need a broader view of critical decisions. Instead of viewing them as deep, abiding pledges that we must make good on, we need to see them more as evolving commitments. That is, "a pledge, by a leader and an organization, to move in a particular direction, but to do so in a flexible, open-ended way." Decision making has to be as fluid as the markets around them. "Execution as learning." "Instead of periodic big decisions, responsible leaders make or orchestrate an unending series of smaller ones—all aimed at some larger, broad, flexible objective."
Do We Have the Right Core Values? Values are important because "they may be the only force that can counter the power of markets and market-based thinking….Today's ever-present markets have their own implicit values, and they can easily overwhelm whatever values leaders want to instill in their organizations." To lead responsibly, leaders must commit to "clarity, meaningful projects, and bright ethical lines. In different ways, each of these helps leaders and organizations respond to the risks and opportunities created by pervasive market forces."
Why Have I Chosen This Life? People seek positions of leadership not despite the struggles involved, but because of them. "Responsible leadership is a challenge that—despite its inevitable risks, frustrations, and failures—demands and merits the best efforts of talented men and women, tests their competence and their characters fully, gives purpose and intensity to their lives and helps them lead the kind of lives they really value." The purpose of our struggle matters.
Badaracco writes, "If the purpose of life is ease and comfort, no sensible person would take on the demands of leadership." Perhaps in developing leaders at all levels we need to change that very prevalent mindset. Without it we can't discover what we are and the person we are meant to be.
Badaracco doesn't offer hard answers because they are evolving answers and should be individual answers created from introspection and reflection. But the insights and provocative concepts are enough to get you thinking in new ways.
* * *


Like us on
Instagram
and
Facebook
for additional leadership and personal development ideas.
* * *


Posted by Michael McKinney at 11:24 AM
Permalink | Comments (0) | This post is about Leadership , Leadership Development , Thinking