Want to be an Entrepreneur? The Pumpkin Plan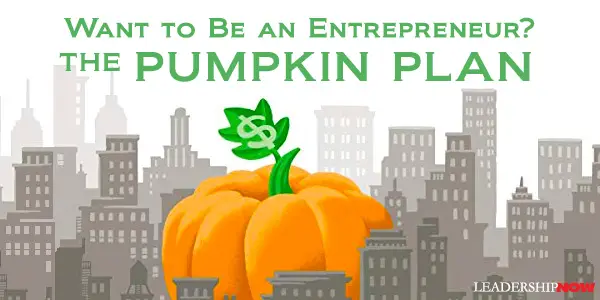 SERIAL entrepreneur Mike Michalowicz, has turned a prescription for growing giant pumpkins in to a formula for building a great business. He calls it The Pumpkin Plan:
Step One: Plant promising seeds. Identify and leverage your biggest natural strengths.
Step Two: Water, water, water. Sell, sell, sell.
Step Three: As they grow, routinely remove all of the diseased or damaged pumpkins. As your business grows, fire all of your small-time, rotten clients.
Step Four: Weed like a mad dog. Not a single green leaf or root is permitted if it isn't a pumpkin plant. Never, ever let distractions—often labeled as new opportunities—take hold. Weed 'em out fast.
Step Five: When they grow larger, identify the stronger, faster-growing pumpkins. Then, remove all the less-promising pumpkins. Repeat until you have one pumpkin on each vine. Identify your top clients and remove the rest of your less-promising clients.
Step Six: Focus all of your attention on the big pumpkin. Nurture it around the clock like a baby, and guard it like you would your first Mustang convertible. Focus all your attention on your top clients. Nurture and protect them; find out what they want more than anything, and if it's in alignment with what you do best, give it to them. Then, replicate that same service or product for as many of the same types of top clients as possible.
Step Seven: Watch it grow. In the last days of the season, this will happen so fast you can actually see it happen. Watch your company grow to a giant size.
The Pumpkin Plan is an honest look at what running a business is all about. Read it at any stage of your business life-cycle—especially before, certainly during, but even after (you might have a few ah-ha moments). The principles explained in this book can be implemented in real-time.
Michalowicz lays it out clearly, cutting through all of the drama and rationalizations and explains what really needs to be done to grow the giant pumpkin.
* * *


Follow us on
Instagram
and
Twitter
for additional leadership and personal development ideas.
* * *

Posted by Michael McKinney at 07:47 PM
Permalink | Comments (0) | This post is about General Business