The First Step in Self-Awareness Isn't You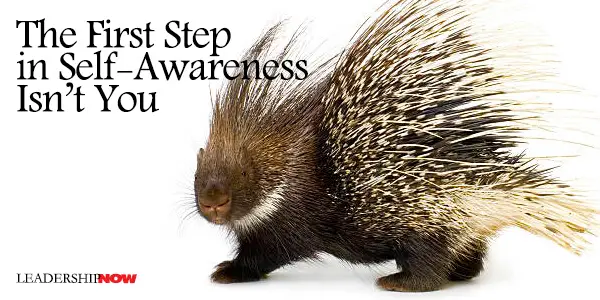 IRONICALLY, the more self absorbed we are, the less self-aware we are.
Self-awareness is vital to the development of a leader. But it's not navel-gazing. It is not an inward focus. It is an outward focus. Its ultimate goal is to improve our connection and effectiveness with others.
The self-absorbed leader struggles with self-awareness and emotional intelligence because self-awareness is about how we are perceived by others. It's about understanding how our behaviors are affecting other people. And we just can't do that by focusing on ourselves.
It is easy for us to focus on ourselves—to think people just don't understand us. And when we do, we tend to rationalize rather than grow. Explain rather than listen. Disconnect rather than lead.
Self-important leaders can't see how they are sabotaging themselves because they focus on their needs and feelings and not those of their followers. Consequently, they don't encourage feedback because it never seems relevant to them. An inward focus dooms us to operate from a place of weakness—never able to see what is holding us back.
It is in the character of great leaders to have a great appetite for feedback. It's a gift and still the best way to gain an awareness of ourselves. You might think of it as a personal scorecard.
To see where we need to grow, we need to see how we affect other people. Only then can we begin the introspection that will lead us to a deeper understanding of ourselves and learn to move past unproductive thinking and develop new behaviors.
* * *


Like us on
Instagram
and
Facebook
for additional leadership and personal development ideas.

Posted by Michael McKinney at 06:52 PM
Permalink | Comments (0) | TrackBacks (1) | This post is about Personal Development