Gen. H. Norman Schwarzkopf 1934-2012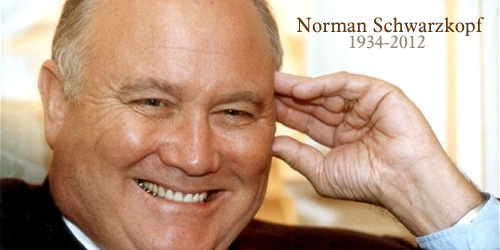 Retired Gen. H. Norman Schwarzkopf, who commanded the U.S.-led international coalition that drove Saddam Hussein's forces out of Kuwait in 1991, died today at age 78 due to complications from pneumonia. He lived in retirement in Tampa, where he had served in his last military assignment as commander-in-chief of U.S. Central Command.
In a statement issued through his office, former President
George H.W. Bush
said he and his wife, Barbara Bush, were mourning Schwartzkopf's death. "Barbara and I mourn the loss of a true American patriot and one of the great military leaders of his generation," Bush's statement read. "A distinguished member of that Long Gray Line hailing from West Point, Gen. Norm Schwarzkopf, to me, epitomized the 'duty, service, country' creed that has defended our freedom and seen this great nation through our most trying international crises. More than that, he was a good and decent man—and a dear friend. Barbara and I send our condolences to his wife, Brenda, and his wonderful family."
Secretary of State
Colin Powell
, who was chairman of the Joint Chiefs of Staff during Desert Storm, recalled Schwarzkopf as "a great patriot and a great soldier." He continued, "Norm served his country with courage and distinction for over 35 years. The highlight of his career was the 1991 Persian Gulf War, Operation Desert Storm. 'Stormin' Norman' led the coalition forces to victory, ejecting the Iraqi Army from Kuwait and restoring the rightful government. His leadership not only inspired his troops, but also inspired the nation.
On Leadership Development
You learn far more from negative leadership than from positive leadership. Because you learn how not to do it. And, therefore, you learn how to do it.
On Character
Leadership is a potent combination of strategy and character. But if you must be without one, be without the strategy.
On Leadership
Do what is right, not what you think the high headquarters wants or what you think will make you look good.
On Courage
True courage is being afraid, and going ahead and doing your job anyhow, that's what courage is.
On Knowing Doing
The truth of the matter is that you always know the right thing to do. The hard part is doing it.
On Success
Success is sweet, but the secret is sweat.
Posted by Michael McKinney at 06:43 PM
Permalink | Comments (0) | This post is about Leaders