The Four Leadership Traits of Highly Collaborative Leaders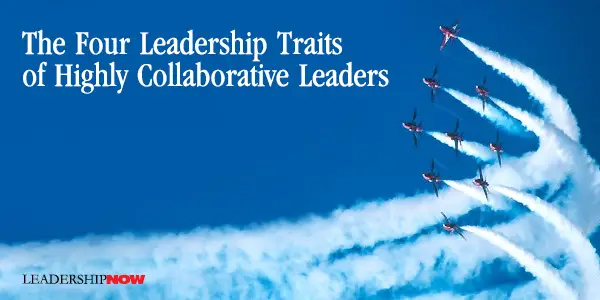 COLLABORATION taps in to a broader pool of ideas. It maximizes the talents and abilities of your people. An inclusive culture is more flexible and adaptable. People are highly motivated, work harder and are more creative.
However, collaboration isn't something you can put on. For it to work you have to believe in it. You can't order it. Collaboration begins at the top. If leaders model it, others will too. Collaboration isn't technique. It's culture.
If a leader believes that everything rises and falls on their talent and ability, and resources are for their sole use, collaboration is DOA. Moreover, it severely limits the organization.
Ron Ricci and Carl Wiese report in The Collaboration Imperative, that there are four leadership traits of highly collaborative leaders:
They focus on authentic leadership and eschew passive aggressiveness. Leaders do what they say they will do and don't take disagreements personally.
They relentlessly pursue transparent decision making. "There's a direct relationship between the agility and resilience of a team and the transparency of its decision-making process. When you're open and transparent about the answers to three questions — who made the decision, who is accountable for the outcomes of the decision, and is that accountability real — people in organizations spend far less time questioning how or why a decision was made." Being mysterious about decisions doesn't make a leader more powerful. It is an illusion.
They view resources as instruments of action, not as possessions. Collaboration is attainable only if you are willing to share resources as well. "The more transparent the environment, the more willing leaders will be to share resources in support of the shared goals of the entire business, and the harder it will be for resisters to hoard them."
They codify the relationship between decision rights, accountability and rewards. When collaborative behaviors are "codified into an end-to-end system across your organization, the greater the odds of collaboration succeeding when you're not there to reinforce cultural norms. As you define the decision paths of your organization and build a common vocabulary to make those decision paths as transparent as possible, take the time to establish clear parameters. Who gets to make decisions? Are all decisions tied to funding? These are the types of questions to which everyone must know the answers."
* * *


Like us on
Instagram
and
Facebook
for additional leadership and personal development ideas.
* * *

Posted by Michael McKinney at 07:43 AM
Permalink | Comments (0) | This post is about Change , Teamwork