Negativity Loops Destroy Intention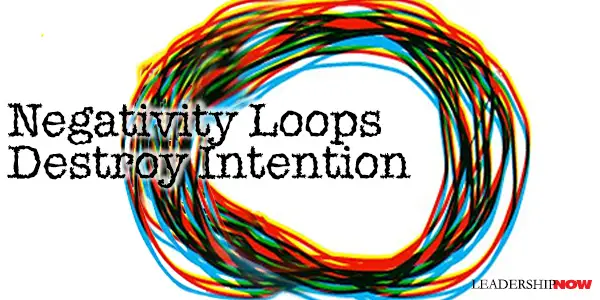 WHEN the stakes are high, negative thinking is a no-brainer; it comes naturally to any of us. Living intentionally is the path to success, but what happens when our intentions are derailed? When things aren't going as planned?
Kristi Hedges is an expert in executive presence. In The Power of Presence she describes presence as "how people move through the world." It is how people perceive you over time. Negativity dramatically affects your ability to lead.
Negativity pulls us down and inward. Positivity pulls us up and outward.
Negative thoughts have two characteristics: they are permanent and universal. As in, "They are…" "It is…" and "I'm not." Hedges says, "People who maintain optimistic thoughts gain resilience. When they have setbacks, they see the issue as temporary and specific, not permanent and pervasive."
You have to learn to dispute your own negativity and turn it into optimism. Most of our pessimistic thoughts are just catastrophizing with little or no root in reality. Negative thoughts "Support inaction, excuse complacency, and take away our options for solutions. They destroy our game."
When you find yourself in a stressful situation and caught in a downward negative spiral, Hedges recommends that you:
Stay vigilant and recognize when it's purely pessimism and not constructive.
Learn to challenge your thoughts before, during, and after a stressful situation.
Find a pregame ritual—a repeatable process to get yourself in the zone of your intention—to get yourself into a positive frame of mind from the outset.
When you have a physical reaction in a stressful situation, accept that it is a normal response and use helpful strategies to work around it, including taking deep breaths, pausing, and simply acknowledging them. Instead of fighting and resisting a physical reaction, "learn to observe it and acknowledge it as purely a physical effect with no link to your ability to perform effectively."
* * *


Like us on
Instagram
and
Facebook
for additional leadership and personal development ideas.
* * *

Posted by Michael McKinney at 10:25 AM
Permalink | Comments (0) | This post is about Personal Development