Innovation at Bell Labs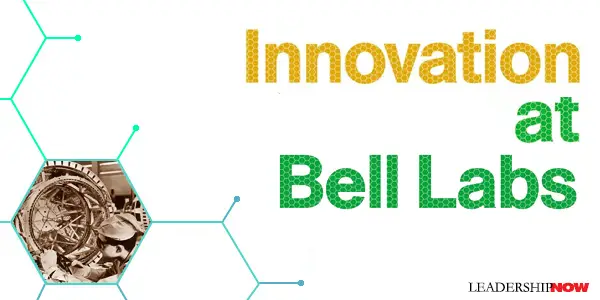 BILL GATES once remarked, "My first stop on any time-travel expedition would be Bell Labs in December 1947," That was the year Bell Labs invented the transistor—a tiny invention that makes possible the technology we have today.
Finding an aspect of modern life that doesn't incorporate some strand of Bell Labs' DNA would be difficult. Cellular communications, the laser, digitized and synthesized music, the solar battery cell, the first orbiting communications satellite, and the UNIX operating system, are all products of Bell Labs.
AT&T officially created Bell Telephone Laboratories on January 1, 1925. At its peak in the late 1960s', Bell Labs employed about twelve-hundred PhDs and produced 13 Nobel Prize winners.

In The Idea Factory, author Jon Gertner brings back to life not only the story of Bell Telephone Laboratories through the people that worked there, but the story of innovation—how it happens, why it happens, and who makes it happen. It is a well told and fascinating story.

(My first encounter with Bells Labs was like many school aged kids in the sixties, through their
series of science films
—
Hemo the Magnificent
,
Our Mr. Sun
,
Gateways to the Mind
and others. A great way to spend an hour in science class.)
John Pierce is one of the brilliant and interesting people we are introduced to in Gertner's story. It was Pierce that suggested calling the new device of 1947 a transistor. Peirce was what Gertner calls an instigator. "An instigator is different from a genius, but just as uncommon. An instigator is different, too, from the most skillful manager, some able to wrest excellence out of people who might otherwise fall short." Pierces real talent was "in getting people interested in something that hadn't really occurred to them before."
Humans all suffer from a terrible habit of shoving new ideas into old paradigms. "Everyone faces the future with their eyes firmly on the past and they don't see what's going to happen next," observed John Pierce.
For creativity to flourish, it needs both freedom and structure. When pierce first came to Bell Labs "he was given free rein to pursue any ideas he might have. He considered the experience equivalent to being cast adrift without a compass. 'Too much freedom is horrible,' he would say in describing his first few months at the Labs. Indeed he eventually came to believe that freedom in research was similar to food; it was necessary, but moderation was usually preferable to excess."
Gertner writes, "We usually imagine that invention occurs in a flash, with a eureka moment that leads a lone inventor toward a startling epiphany. In truth, large leaps forward in technology rarely have a precise point of origin. At the start, forces that precede an invention merely begin to align, often imperceptibly, as a group of people and ideas converge, until over the course of months or years (or decades) they gain clarity and momentum and the help of additional ideas and actors. Luck seems to matter, and so does timing, for it tends to be the case that the right answers, the right people, the right place—perhaps all three—require a serendipitous encounter with the right problem. And then—sometimes—a lead. Only in retrospect do such leaps look obvious. When Niels Bohr—along with Einstein, the world's greatest physicist—heard in 1938 that splitting a uranium atom could yield a tremendous burst of energy, he slapped his head and said, 'Oh, what idiots we have all been.'"
Today there is nothing quite like the Bell Labs of AT&T and Western Electric to produce the creative technology that they did. Bell Labs laser scientist Herwig Kogelnik describes the magic of Bell Labs well: "It's the interaction between fundamental science and applied science, and the interface between many disciplines, that creates new ideas."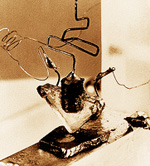 The first transistor created in 1947 was a quarter of the size of an American penny. Now a computer-processor chip the size of a postage stamp contains 2 billion transistors. Intel alone, makes 10 billion transistors every second. Time marches on. "I am afraid that there will be little tangible left in a later age," Pierce wrote of his world at Bell Labs, "to remind our heirs that we were men, rather than cogs in a machine."
| | | |
| --- | --- | --- |
| |   | While the Bell Labs story is a fascinating read on its own, Gertner's The Idea Machine has much for leaders about designing a innovative environment and the management of creative people. Great read for the summer. |
* * *


Like us on
Instagram
and
Facebook
for additional leadership and personal development ideas.
* * *

Posted by Michael McKinney at 04:54 PM
Permalink | Comments (0) | TrackBacks (1) | This post is about Creativity & Innovation , General Business , Management , Problem Solving