Power Corrupts Sooner than You Think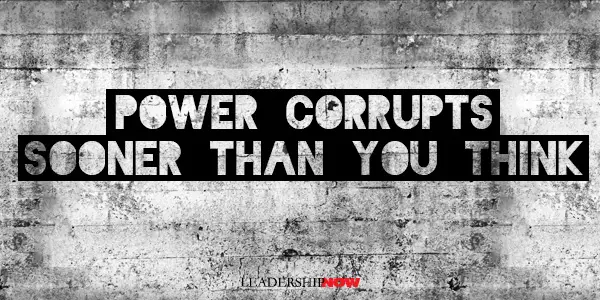 IN A LETTER to Bishop Mandell Creighton in 1887, Lord Acton observed that "Power tends to corrupt, and absolute power corrupts absolutely. Great men are almost always bad men." British Prime Minister William Pitt also observed, "Unlimited power is apt to corrupt the minds of those who possess it." Power is a tricky thing and we rely on it more than we should.
In a study by Adam Galinsky and others, they found that when people where power primed—temporarily made to feel powerful—they demonstrated a reduced tendency to comprehend how others see, think, and feel as compared with those that were primed with low power. They relied too heavily on their own vantage points and demonstrated less accuracy when assessing the emotions and thoughts of others. The possession of power or even the feeling of power tends to very quickly change how we think. We easily slip into thinking we are something we are not, to become absorbed with ourselves, to think, "It's all about me."
Our ego can quickly blind us to reality—self-deception sets in very quickly. We lose self-awareness and therefore our sense of the impact we are having on others. We would do well to remember the Stripes Rule. Denny Strigl, former CEO and president of Verizon Wireless, recalls in Managers, Can You Hear Me Now?:
When I became president of Ameritech's cellular subsidiary, Ameritech Mobile, the chairman of Ameritech told me something that has stayed with me ever since. He said I would be managing an entire company, and as the company's most senior manager, I should always remember that the "stripes" I have been given are on the coat I wear, not on the person who wears the coat. He cautioned me not to let the job go to my head because when I take the coat off, I will just be a person like any other.
Power, it seems, can easily become a handicap and not a blessing to leading well. But it often comes with the territory. A wise leader might keep Lord Acton's words front and center.
| | | |
| --- | --- | --- |
| |   | Very soon after we become aware of our own power, our thoughts begin to turn inward and we lose touch with those we are to serve. Power becomes a barrier reducing our ability to lead properly. Awareness of this fact is the first step toward managing it. |
* * *


Like us on
Instagram
and
Facebook
for additional leadership and personal development ideas.
Posted by Michael McKinney at 09:25 AM
Permalink | Comments (0) | This post is about Leadership , Management , Thinking