Ones Should be CEOs, Twos Should Not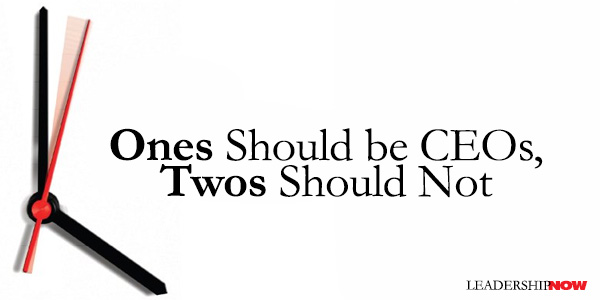 TECHNOLOGY is reaching a breaking point. The amount of data is even overwhelming computing capabilities. A new model of information technology is needed. A new model is being found by applying the predictive nature of the brain to the way computers "think."
Wayne Gretzky has famously said, "I skate to where the puck is going to be, not where it has been." Sports commentators would say that he seemed to be two seconds ahead of everyone else. In
The Two-Second Advantage
, authors Vivek Ranadivé and Kevin Many write, "Like Gretzky on ice, the most successful people in various fields make continual, accurate predictions just a little ahead of and little better than everybody else." They don't need to be able to see ten years out; just enough ahead will do the trick.
Part of what is going on in the brain is a function called "chunking." Predicting and chunking go together by looking for patterns and predicting outcomes. We chunk all types of information. It makes us efficient. If we didn't chunk, we would think about everything as if it was for the first time. Teaching computers to do this will make them more useful—"two-second-advantage" predictive technology.
What caught my attention in their discussion of predictive thinking—from a leadership standpoint—was the idea of two types of leaders found at the top of organizations: Ones and Twos.

Ben Horowitz, of the venture capital firm Andreesen Horowitz, told the authors that each type thinks differently. "Ones are predictive. Twos have to rely on mountains of data to figure out what they think." A one has a two-second advantage. They continue:
Ones tend to be founders. They are bullheaded and courageous. They tell people what to think, not what they think people want to hear. They see openings and get flashes of creativity—like Gretzky in a hockey game. They can take in everything that is happening at a company and see it from a higher level, the details blurring into instinct.

Make no mistake: Twos are still extremely important to a company, Ones need twos. The twos pay attention to details; they get things done.
Bill Gates is a prototypical one; Steve Ballmer is a two. Steve Jobs is a classic one.
The authors say that ones should be CEOs, and twos should not. Of course, a good CEO really needs to be both—and can be with practice—but only rarely do.
Of Interest:


Why We Prefer Founding CEOs


Ones and Twos
* * *


Like us on
Instagram
and
Facebook
for additional leadership and personal development ideas.
* * *

Posted by Michael McKinney at 04:57 PM
Permalink | Comments (0) | This post is about Leaders , Thinking