The Iconography of Leadership
Art critic Robert Hughes discusses the influence of Rome's art on Roman history in his book
Rome: A Cultural, Visual, and Personal History
. He points out that like the propaganda of today, statues in ancient Rome perpetuated the power of leaders. He presents the "competent, effective and memorable" statue of the emperor Augustus found in the Villa of Livia at Prima Porta, as an example that has few equals as an image of "calm, self sufficient power."
Hughes writes, "
Until the advent of photography and then of TV, which effectively replaced them, propaganda statues were indispensable when it came to perpetuating the iconography of leadership.
They were produced in mass numbers all over the world to celebrate the virtues and achievements of military heroes, political figures, wielders of every sort of power over all kinds of people."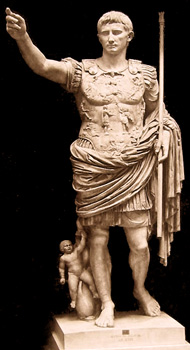 He explains the ideology of the statue: "Take the design on the cuirass he is wearing, which shows—as most literate Romans would have known, though we can hardly be expected to—the recovery by Augustus of one of the army's military standards, captured and taken away by the Parthians on the eastern frontier in 53BCE: the cancellation, therefore, of an unbearable disgrace. It also helps to know that the little figure of the love-god Eros next to Augustus' right leg is there to remind us that his family, the Julians, claimed to have descended from the goddess Venus; its presence thus reinforces the belief that Augustus was a living god, while the dolphin next to it refers to Augustus' destruction of Antony and Cleopatra's fleet in the sea battle of Actium."
Hughes states that we should not think of this as a unique piece. "The Romans," he writes, "reveled in the cloning, copying and dissemination of successful images—successful, that is to say, especially from the viewpoint of ideology."
Certainly, whether to perpetuate a myth or a truth, we do the same today. Images create a powerful story.
* * *

Like us on
Facebook
Posted by Michael McKinney at 03:51 PM
Permalink | Comments (0) | This post is about Leaders