Overconnected: The Promise and Threat of the Internet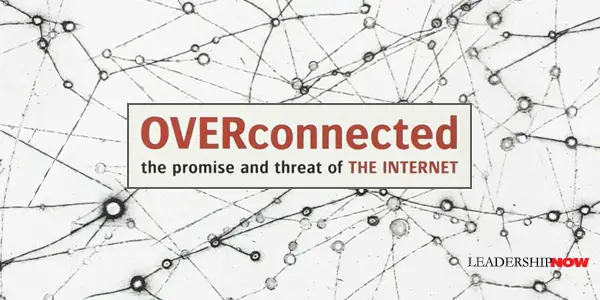 THE Internet is a technology and like any technology it can be a blessing or a curse depending on what you are doing with it. The Internet amplifies. This can be good or bad. Amplification means more connections and that means more crowd behavior. So what we are amplifying becomes an important question. To be used well, the Internet requires self-regulation—maturity. Unfortunately, we are not always good at that, so things can easily get out of control. The Internet is new and with most things new, maturity is not part of the equation.

In
Overconnected
, Bill Davidow says that while the Internet didn't cause the global economic crisis, it did act "as an accelerant, spreading information very quickly. It was gasoline on the flames. A crisis of this dimension would not have been possible without a very efficient, fast, cheap, and reliable information transportation system. Across the worldwide digital sprawl, things go viral at lightning speed. And people were carried away in competitive, greedy fervor of their own creation." The Internet encourages extreme events.
And of course the Internet affects us in other ways that really haven't had time to process yet. We are not yet aware of how all of this is "affecting our institutions, our emotions, our judgment, and our levels of trust."
Overconnected has all the drama you'd expect from a book about the Internet—it's a page-turner—but without the giddiness that makes so many of them so annoying. Davidow explains the dynamics of the Internet in clear terminology and great analogies. When a system cannot adjust to a certain threshold of connectivity, it becomes overconnected and unstable. In this state, either the environment or the institutions in it are unable to cope with the changes and become overwhelmed by cultural lag. Cultural lag means some element of the culture isn't keeping up with all the changes around it creating the potential for confusion at best. For example, "in a highly connected environment, an investment bank can start conducting business differently and prosper as a result, then outrun the regulatory environment and spin out of control. If enough financial institutions do the same thing, the economy finds itself in an overconnected state, and chaos follows."
Davidow explains the key part of the overconnectivity issue: positive feedback. Not positive as in "good" but as in "give me more of the same." So while a thermostat is an example of negative feedback as it regulates the temperature by saying "that heat was good, but we've had enough," a malfunctioning thermostat would say, "Love the heat, just keep it coming" until it becomes extreme. The Internet has elements of both. Negative feedback creates transparency, but positive feedback drives overconnectivity. Positive feedback can create vulnerabilities.
Davidow warns that we can expect more accidents and contagions. The compression of time that the Internet enables, allows for even more powerful positive feedback loops, "making predictions difficult and behavior fickle, while increasing the possibility of unexpected interactions." In addition, "When accidents happen they can frequently trigger contagions, which in turn require high levels of connectivity to sustain themselves."
The solution, says Davidow, is to reduce the amount of positive feedback in the system, by weakening or even breaking interconnections. While he acknowledges that we have to get better at adapting to a world of our own making, he suggests that regulation and taxation of financial transactions, designing better systems with less positive feedback, and thereby building more slack into the system, would help. Overconnectivity helps to frame the issues cause you to think more deeply about the implications of the Internet. "This new environment," he concludes, "is filled with opportunity, but whether we seize it or let it hold us hostage is our decision."
* * *


Like us on
Instagram
and
Facebook
for additional leadership and personal development ideas.
* * *


Posted by Michael McKinney at 11:53 PM
Permalink | Comments (0) | This post is about General Business