Insist on Heroes. And be One.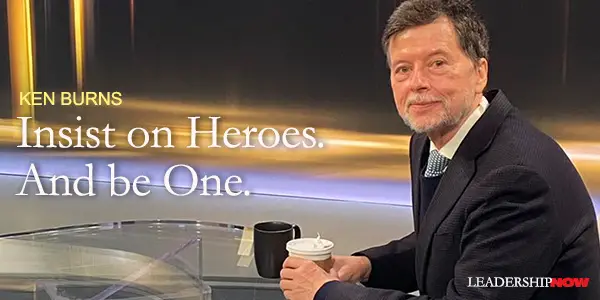 MAKING a difference requires a different kind of thinking. Making a difference means doing something different. To not be taken for granted means that you have to do things that are not expected—to step out of your comfort zone. Do more. Experience more. Serve more. A leader's legacy doesn't come easily. While a leader may be focused on tomorrow, that future will be based on what they do today.
Some years ago, documentary filmmaker Ken Burns offered some advice for those starting out in life. The message applies to anyone who would lead and is worth reflecting on:
Do something that will last and be beautiful. It doesn't have to be a bridge—or a symphony or book or a business. It could be the look in the eye of a child you raise or in a simple garden you tend. But be on guard: do something that will last and be beautiful.

As you pursue your goals in life, that is your future, pursue your past. Let it be your guide. Insist on having a past and then you will have a future.

Do not descend too deeply into specialism in your work. Educate all your parts. You will be healthier. Replace cynicism with its old-fashioned antidote, skepticism.

Don't confuse success with excellence. The poet Robert Penn Warren once told me that "careerism is death."

Travel. Do not get stuck in one place. Visit Yellowstone or Yosemite or even Appomattox, where our country really came together. Whatever you do, walk over the Brooklyn Bridge.

Listen to jazz music, the only art form Americans have ever invented, and a painless way, Wynton Marsalis reminds us, "of understanding ourselves."

Give up addictions and habits. Try brushing your teeth tonight with the other hand. Try even remembering what I just asked you.

Insist on heroes. And be one
* * *


Follow us on
Instagram
and
Twitter
for additional leadership and personal development ideas.
Posted by Michael McKinney at 09:58 PM
Permalink | Comments (0) | This post is about Leadership