Hay Group's 2010 Best Companies for Leadership

Hay Group, a global management consulting firm, released its
2010 Best Companies for Leadership Study
and Top 20 list. The study ranks the best companies for leadership around the globe and examines how those companies develop current and future leaders.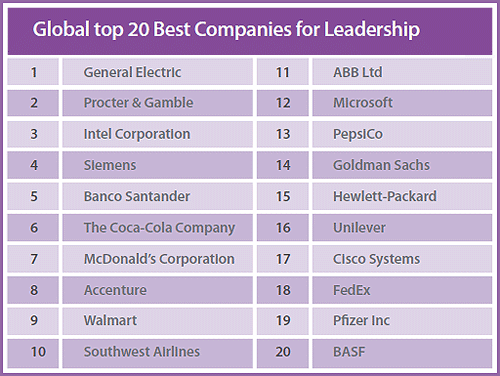 According to Hay Group's study, all of the Top 20 companies report that everyone at every level of the organization has the opportunity to develop and practice the capabilities needed to lead others, compared to less than 70 percent of all other companies in the study. In addition, 90 percent of the Top 20 companies report that people are expected to lead regardless of whether they have a formal position of authority, compared to only 59 percent of other companies.
"The Top 20 Best Companies for Leadership are at the forefront of a significant shift away from hierarchical organizational operating models," said Rick Lash, Director in Hay Group's Leadership and Talent Practice and co-leader of the Best Companies for Leadership Study. "Leadership in the twenty-first century is about leading at all levels; not restricting it to title. As organizations become flatter, the best leaders are learning they must check their egos at the door and become increasingly sensitive to diversity, generational and geographical issues."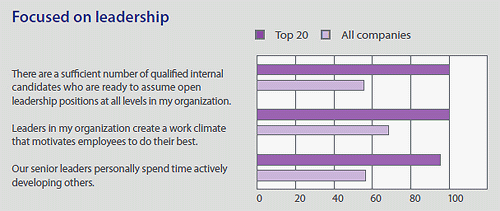 They found that the best companies are moving more quickly and completely than other companies to flatten their structures and prepare their managers to lead effectively within it. Specifically they drive collaboration and cross-functional leadership and innovation, actively seek greater cultural diversity in their leaders and workforces, and they show a strong focus on developing leaders within their organizations. In the process, they are gaining important competitive advantages.
Related Interest:

2009 Report: What Organizations Value in Leaders



Like us on
Instagram
and
Facebook
for additional leadership and personal development ideas.
Posted by Michael McKinney at 11:36 AM
Permalink | Comments (0) | This post is about General Business , Weekend Supplement