5 Leadership Lessons: Lessons From Warren Buffett's Top Business Leaders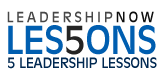 In
Behind the Berkshire Hathaway Curtain
, Ron Chan has interviewed a number of CEOs and executives who have contributed to Berkshire's Success. Here are some of the insights, philosophies an mindsets from people at the top of their fields:

Cathy Baron-Tamraz, President and CEO of Business Wire
: "I think a liberal arts education is invaluable in preparing one for the working world. I look at the people I have hired these past 30 years, and to be candid, most of them have had a more general background than a strictly business background." The whole idea of college is to learn about general principles by taking a variety of courses.

Randy Watson, President and CEO of Justin Brands
: "I learned that to run a company and be a leader, it is not about the individual, but how the team of people work together to accomplish something for the greater good. It is about working in unison. My job is to make sure that I have the right people in the right place, and then I stay out of their way."

Stanford Lipsey, Publisher of the Buffalo News
: "As an advertising executive, I learned to be observant and flexible. I learned to pick up information from my clients so that I could prepare data to attract them. As the saying goes, 'persistence succeeds when all else fails!' I just kept trying and trying."

Brad Kinstler, President and CEO of See's Candies
: "Spotting talent is more of an art than a science. You'll never know whether you have an eye for it until you put your managers out in the playing field and observe the way they perform. What I realized is that there is no right or wrong when it comes to picking talent. In fact, you can't even tell who will be the next leader until he or she becomes one. Leaders come in different shapes and sizes, and it is often during a crisis or other extraordinary situation that their true ability emerges."

David Sokol, Chairman of the Board of MidAmerican Energy Holdings Company
: "When I was a 27-year-pld project manager, I had to lead some older and more experienced managers. The reality was that some of them were uncomfortable working with me. The only thing I could do was to keep my head down, check my ego at the door, and work extremely hard to prove that I was capable of leading. I didn't try to convince them of anything other than the need to accomplish everything as a team.
"My father taught me that it is difficult to control others' perceptions, but I can always control my own actions, and these actions can, over time, alter those perceptions. I constantly show my colleagues that I am an active listener, and I make sure to explain my rationale for every decision and to consider their opinions. That is all I can do, because the reality is that it will soon become clear whether or not I am capable."
Posted by Michael McKinney at 12:12 AM
Permalink | Comments (0) | This post is about Five Lessons , General Business