Why Amish Businesses Thrive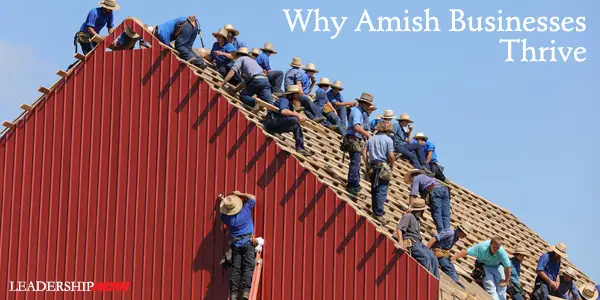 STATISTICALLY, Amish businesses have a survival rate that is almost double other American businesses. Erik Wesner decided to find out why. After years of research and interviews, he has gathered together in Success Made Simple a number of transferable lessons on operating a business.

I think it is a critical insight to their success that they don't get the cart before the horse. Wesner writes, "Amish tend to keep in mind that business is first a means to realize core values, ones which don't usually come to mind when thinking 'business prosperity.'"
Jonas Lapp (not his real name) is an Amish home-builder. Wesner says that "Jonas loves what he does. But you can see that it's less the actual construction of homes or the financial payoff that drive him. Instead, it's the chance to be a father figure to an employee who never had one, to form a friendship with a 'customer' who in the end never even does business with him, to do his small part to strengthen ties in his community."
In the beginning when he first started his business, Jonas struggled with fear; the fear of it not working out; of failure. The problem with fear Jonas told Wesner, is that when you are operating out of fear, "you're not establishing relationships. You're in it for what you can grab today. You're after as much as you can get."
Not surprisingly, what grounds Jonas is his faith, operating from the premise that God will take care of him. "Amish lean on faith," writes Wesner. "It's a seemingly bottomless source of strength and security. Faith helps them see hope when tragedy strikes. Faith fosters gratitude in the fortunate. It's a basic element of Amish life and, by extension, their approach to business." It changes his perception of his role in the business and how it all relates to his life in general.
Jonas neutralizes fear by shifting his focus. "If you're a servant-leader, that means other people are gonna come first," he explains. "People have to be very important to you. You're not in it for the dollar anymore … you're in it to help people. And the profits? They come." Wesner adds, "He executes in the day-to-day, while the far-horizon focus frames each decision."
A big part of Amish business thinking that comes through in everything is their family oriented approach. "Amish business thinking reflects community….In Amish America, the familial aspect comes preinstalled." Employees are often regarded as extended family. "The Amish remember that their employee is usually a spouse to someone, and often a parent to a hefty handful—before being a worker." Jonas Lapp says:
If they're married … or he has a fiancée or a girlfriend, if that fellow's important in your business, let their helpmate know, that your husband is doing a wonderful job, and he's very important in my business.
Humility is practiced and demonstrated in their respect for others. If your goals are important enough for you to pitch in on the unpleasant tasks, then perhaps those goals will be important to your employees too. Again Lapp says, "I think a good boss won't just stand there and say, 'Hey, your piece belongs over there'; he'll say, 'I'll help you put it there.' I think people learn faster if you help them with their part."
Success Made Simple will help you rethink your approach toward business and people. It will encourage you to clarify your values and methodically apply them to everything you do.
Gratitude. Family focus. Looking out for the other guy. When it comes to business, the Amish haven't reinvented the wheel. One thing Amish excel at is applying certain time-honored principles—hard work, treating people fairly, providing quality goods and services—consistently.
* * *


Like us on
Instagram
and
Facebook
for additional leadership and personal development ideas.
* * *

Posted by Michael McKinney at 10:23 PM
Permalink | Comments (0) | This post is about General Business